Sunday, May 1, 2011
Due to a conflict in his schedule, it worked best for Walter if we came to his village, far to the south of Stuttgart. He and his wife and cat live in a home they designed some years ago in Sant Englmar. Walter is soft spoken, quick to smile, tall, slim, and very fit. He told us he believes fitness keeps him in mental shape for his job – and he says it's been part of his "secret," if there is one, to his success over the past decades.
I think we discovered the real story though. It starts with early training. He grew up in Regensberg, a larger city not too far from Sant Englmar, and his first job was with the Roman Catholic Bishop's office there. The office hired him as a driver to view and inspect all the properties the church owned in the district (sometimes with someone from the office and sometimes alone) and this, apparently, was quite an extensive inventory. Walter drove 130,000 kilometers each year. That's 81,250 miles. And the roads in that area are wonderful, twisty, hilly.
Walter began saving his money for his own car and his father gave him life-changing advice: "Only buy a car if you can buy a good car. A good car is a Porsche." So in 1967, he bought his first Porsche, a 356.
His active rally and racing career extended from 1971 until 1992, when he took a job with Porsche as a company spokesman and development driver. And that was when the stories went from really interesting and entertaining, to fascinating.
We have a few images of "downtown" Sant Englmar for you here, too, and Jerry has continued his digital Leica documentation of everyone we've interviewed.
Tomorrow, Sunday, we'll visit BMW Museum in Munich, as well as the German Transport Museum.
Stay tuned.
randy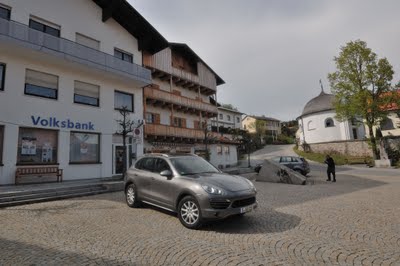 Here's our trusty Cayenne. It's the V6 version equipped with an 8-speed Tiptronic transmission. I'll calculate mileage when we get back to Stuttgart but meanwhile we put in gasoline in Sant Englmar and paid $9.75 per gallon.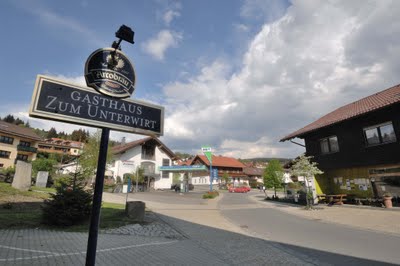 Sant Englmar is in the Bavarian Alps. Walter Rohrl is an avid skier and mountain biker (he left for a ride with a friend as we drove away). His village gets more than two meters of snow each winter.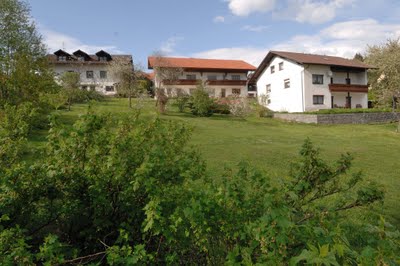 This is typical Bavarian residential architecture, and the build quality (mandated by the government code) is extraordinary. Walls are thick and roof pitches are fairly steep to aid snow runoff.
For more information Click Here.