Stunningly Beautiful 58,001 original mile '56 Ford T-bird Now for Sale on AlanColvin.com!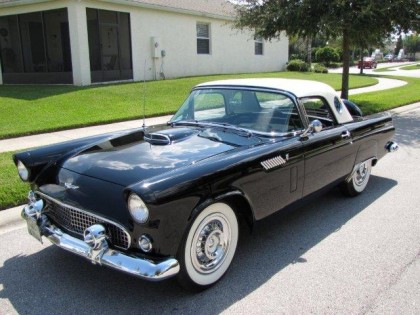 This recently professionally detailed (www.richiescustomdetailing.com) T-Bird (VIN: P6FH260053) is painted Raven Black with a white convertible top, which matches the trim tag (AE). Car has the correct continental kit on the car as all '56 T-Birds had the kit as standard equipment. Car has optional rear fender skirts which are in excellent condition. There is absolutely no exterior rust on car. Body gaps are very good for a 55-57 T-Bird. Car lines are excellent and there are no visible waves in any of the panels due to excess bondo or mis-matched panels or repairs. Paint color is consistent with no orange peel found. Stock front grille is in excellent shape. All glass is in decent shape.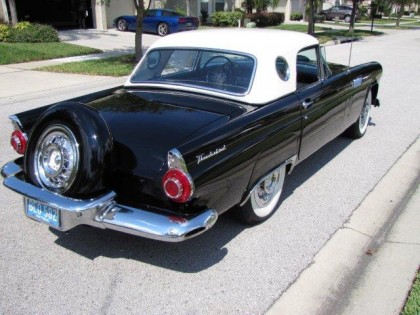 Car has the correct optional 312 4V/225HP engine with the factory dress up kit which would include a chrome air filter cover, chrome oil filter tube cap, and finned aluminum valve covers. Since this car was built later in the model year, the 3-bladed chrome fan would not have been installed and it is not on this car. Car has a new Ford 29N Power Punch reproduction battery-installed. All paint finishes look correct and most of the engine looks very original. There are multiple decals and stamps throughout the engine compartment that look very original and correct.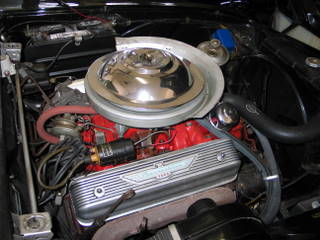 Car does not have A/C. Car is running the correct Ford-o-matic automatic transmission. Car has optional power steering and drum brakes (Front & Rear). Car does not have power brakes. Power steering has no leaks. No brake leaks evident. Rear axle is original design for this year T-Bird.
Factory white trim tag coded correctly convertible top is stowed behind seat. Factory painted white porthole hardtop is in place and in great shape. This porthole hardtop is more desirable and looks to be original. 1956 was the first year for the porthole hardtop, but non-porthole tops were produced for 1956.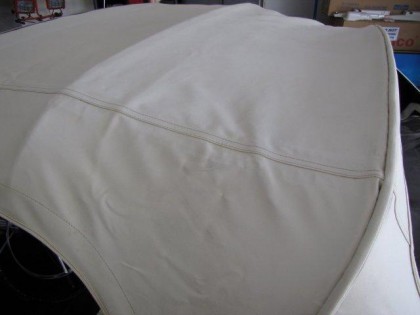 All body panels are of original design. Door handles are in excellent condition. Exterior emblems on car are in good condition and may be original. Exterior stainless steel is in decent shape and all look to be original to the car. Weather-stripping looks original to car. Car has both front and rear bumpers and they are in excellent condition.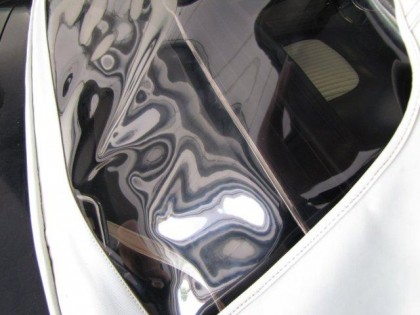 Interior is Black & White vinyl, which matches the trim tag (XA). Interior looks original and is in excellent condition. Headliner is clean and looks like it is in excellent condition with no rips or tears. Gauge cluster panel and gauge faces are in excellent condition and have not been restored. Dash pad has no evident rips or tears. Car has original Town & Country AM radio in dash . Car has optional heater. Car has the original stock Ford T-Bird steering wheel and is in great shape. Car has original type floor mats and they are in excellent condition.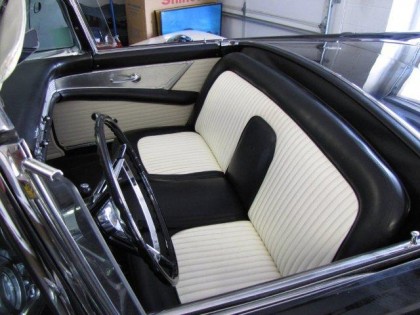 Underneath of car looks very original and is very clean. There is no evidence whatsoever of any rust under the car. It looks as though much of the original undercoating is still in place. Car has factory type exhaust.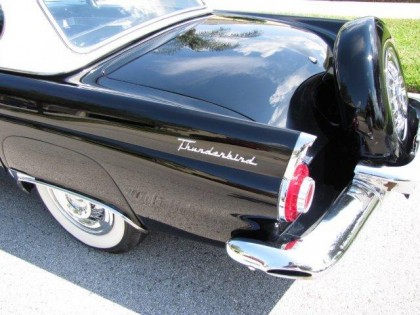 Excellent near new reproduction Firestone 6.70-15 rubber all the way around. Car has the optional full hubcaps and they are all in excellent condition.
Trim Tag:
Serial NO: P6FH260053
Body: 40A
Color: AE
Trim: XA
Production Code: 40CX320Trim Tag denotes this car is a Raven Black/Black & White Interior Thunderbird built on 4th day of April for a dealer in the Chicago zone. It was 320th car scheduled (not only Thunderbirds) to be assembled on April 4th, 1956.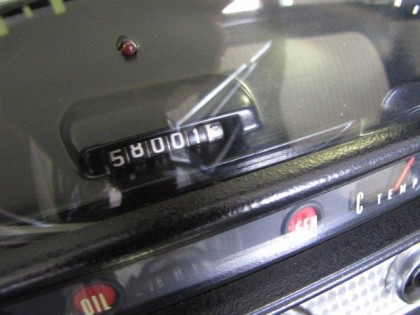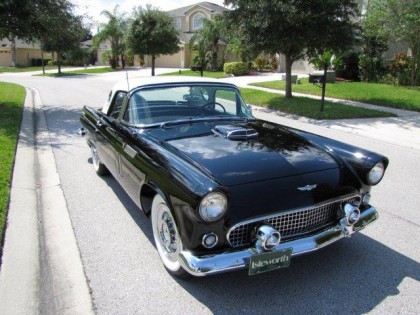 Price: $29,550 OBO. If interested in purchasing this excellent classic T-Bird, please email me immediately!