SOLD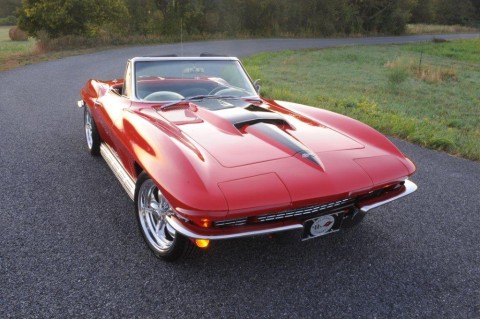 Photo Credit: Jerry Heasley
Built by Rich Lagasse, Enfield, Connecticut
Formerly owned by Matt Devlin, Overland Park, Kansas
I am honored to list this incredible 3-owner Corvette on my site. I consider it to be one of the top 10 modified Corvettes in the US.  Rich Lagasse is considered by many to be the premier modified Corvette builder in the country. I really don't want to portray this car as a "trailer queen / show only"….it's way too much FUN to drive!!
This incredible Corvette has appeared in a number of shows and has been fortunate enough to receive several awards including:
Multiple Class wins at Super Chevy shows
ESPN II Award of Excellence
Vette Magazines "Best Corvette" award
The "Outstanding Achievement Award" at Super Chevy
Awards for "Outstanding Paint" at two shows
"Outstanding Sports Car" in the Boston ISCA show
Meguiars "Best Corvette" award
"Best Custom" and Best of Show" in Hartford, Ct.
A "Celebrity Pick" and the NCCC Concours at Corvettes at Carlisle
"Best of the Winners" at Marks King of Cruises in East Granby, Ct.
2011 Corvettes on the Square, Independence, MO. 100-point Platinum Award and Best in Class C-2.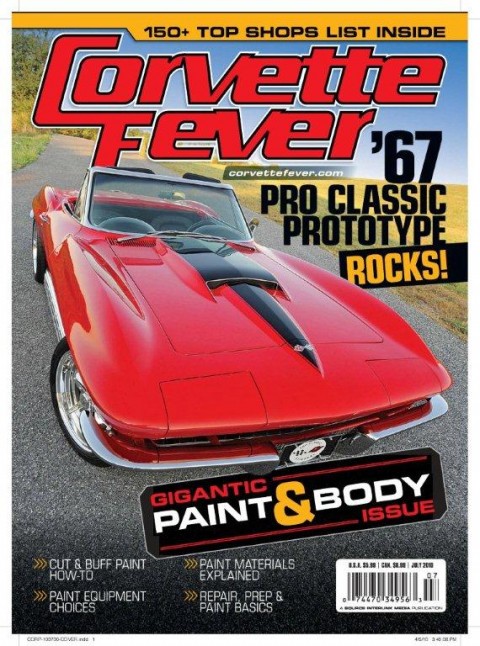 The car was featured and on the cover of the November, 1999 issue of Super Chevy magazine and also appeared in the October, 2000 issue on page 80. It was also featured and on the cover of the January, 2001 issue of Vette magazine on pages 66-68 and appeared in the April, 2001 issue in an ad for GR8RIDE.com on page 46. It has also appeared in an ad for CorvetteForum.com on page 81 of the May, 2001 issue of Corvette Fever magazine. It also appeared in the March, 2002 issue of Vette Magazine as part of the feature on Rich Lagasse's 62 Corvette on page 43.  It also appeared on the Cars At Carlisle program on the Speed Channel in March, 2005. The car was on the July 2010 cover of Corvette Fever and was featured in that same issue.
Car is priced at $125,000. This Corvette could not be built for $150K-$160K today.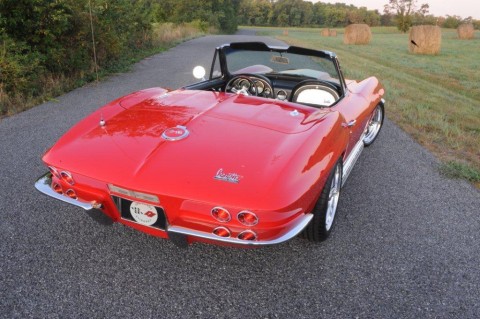 Photo Credit: Jerry Heasley
The current owner has made some substantial upgrades (February 2011) to this top-shelf  Vette. They include:
SUSPENSION
Complete suspension has been show-chrome plated
New VB&P (Vette Brakes) C2X Suspension Kit that includes upgrade to new tubular A-Arms, shock upgrade to Carrera/QA-1 double adjustable shocks. New spreader bar on A-Arm towers.
All new suspension hardware has been replaced w/polished ARP 12-point stainless steel bolts
HD Rear Axle cover has been chromed by Advanced Plating & Powder Coating/Nashville, TN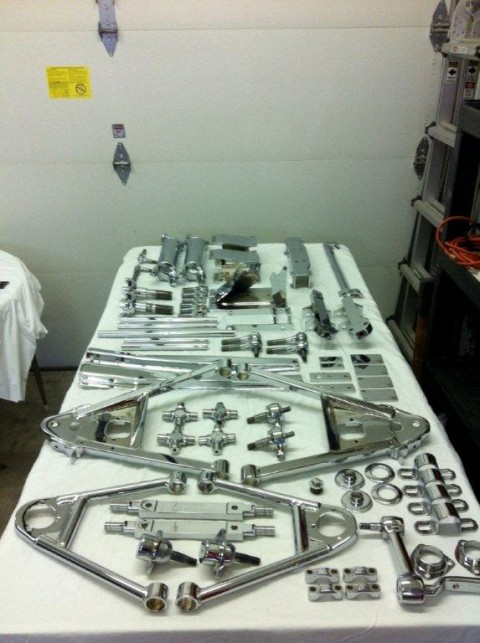 Complete new suspension chromed and ready for install with S/S hardware
INTERIOR
New custom-deep pile floor mats w/embossed '67 crossed flags and correct '67 Sting Ray script (black w/red piping).
This is how Rich Lagasse built the car originally and how the car was featured in Corvette Fever:
BODY
Original '67 Sting Ray convertible body
Paint R/M Diamont special-blend "Rich's Red" basecoat/clearcoat:
Painting/paint prep by Corvette Center, Newington, Connecticut
CHASSIS
Modified production '67 Sting Ray, with original frame painted to match body
SUSPENSION
(Front) Vette Brakes & Parts (VBP) composite transverse monoleaf spring
Tubular A-arms, larger-than-stock anti-sway bar, and Carrera shocks.
(Rear) VBP composite transverse monoleaf spring, larger-than-stock anti-sway bar, and Carrera shocks
STEERING
Restored GM/Saginaw recirculating ball, non-power-assisted
BRAKES
Four-wheel disc brakes with cross-drilled rotors, stainless sleeved GM calipers, and a custom-built power brake booster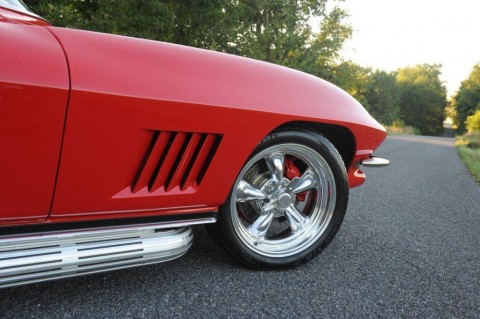 Photo Credit: Jerry Heasley
WHEELS
American Racing Torq-Thrust II wheels with three-prong spinners, 17×7 inches (with 4-inch backspacing) in front, 17×8 inches (with 4¾-inch backspacing) rear Tires
BF Goodrich Radial T/A, 205/50R17 in front, 235/45R17 in rear.
ENGINE
GM Performance Parts (GMPP) 502HO crate engine (based on Chevrolet Mark IV big-block)
Balanced/blueprinted Arthur Bonneau at Bunjies Hot Rod Shop, Brimfield, Massachusetts
Displacement: 502 cubic inches
Compression ratio: 9.6:1
Cylinder heads: GM Performance Parts cast aluminum
Ignition: MSD electronic
Induction: Holley 850-cfm four-barrel carburetor on GMPP dual-plane aluminum intake manifold
Camshaft: GM hydraulic roller
Exhaust: Prototype ceramic-coated Sanderson "block hugger" headers with original '67 Sting Ray 2½-inch factory side exhaust
Horsepower:  600 @ 5,200 rpm (estimated)
Torque:  620 ft-lb @ 4,200 rpm (estimated)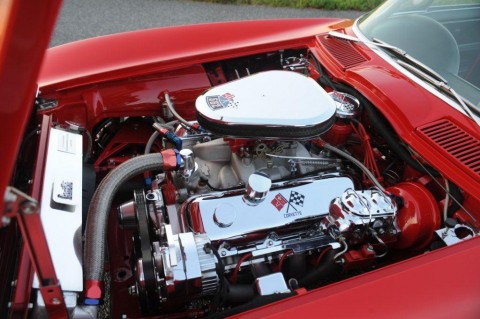 Photo Credit: Jerry Heasley
TRANSMISSION
Richmond Gear five-speed manual transmission with a Hurst shifter
REAR END
Rebuilt original '67 Sting Ray with Positraction and 3.36:1 rear gears.
INTERIOR
Restored original '67 Sting Ray convertible
Restored by Rich Lagasse, Enfield, Connecticut
Seats restored '67 Sting Ray buckets with Al Knoch black leather upholstery
Carpets: Al Knoch reproduction black loop-pile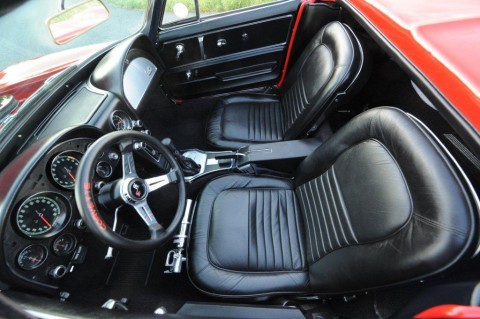 Photo Credit: Jerry Heasley
INSTRUMENTATION
Restored production '67 Sting Ray: 0-160 mph speedometer, 0-7,000 rpm tach, plus fuel level, ammeter, coolant temperature, and oil pressure gauges in dash and analog clock in center dash stack
Sound system:  Pioneer AM/FM/cassette head unit in factory radio location
Heater:  Restored production GM/Harrison heater/defroster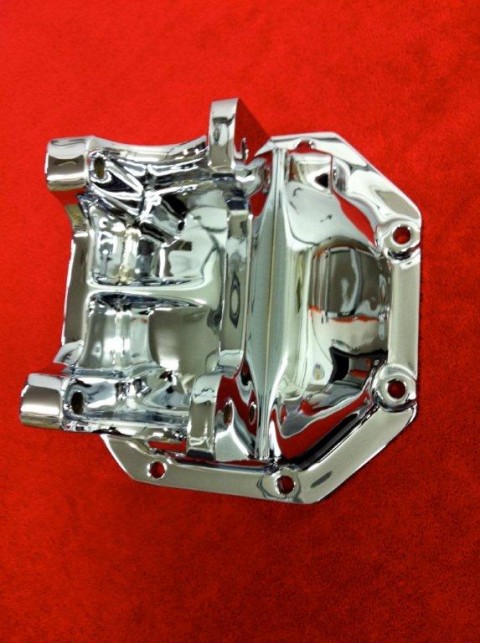 Newly  chromed HD rear axle cover prior to install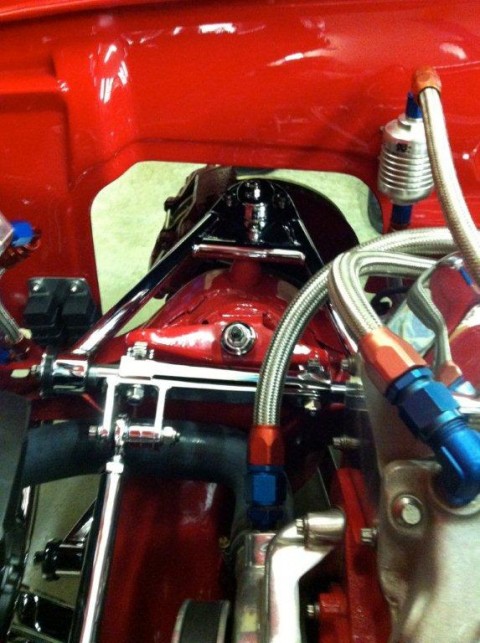 Newly installed chrome VB&P tubular A-Arms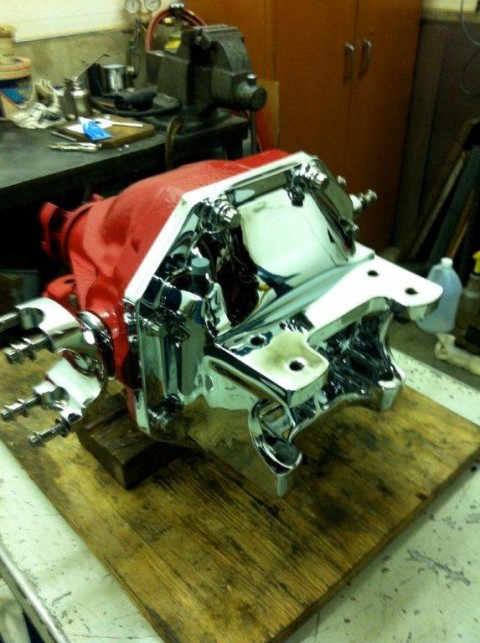 New rear axle cover prior to install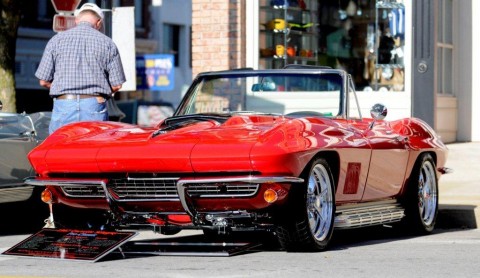 Corvette at a recent car show