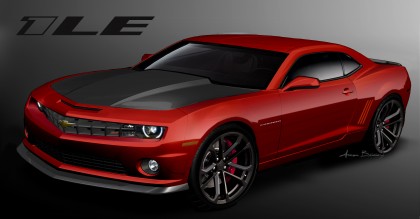 The road-racing inspired Camaro 1LE performance package returns for 2013 with unique gearing, suspension tuning, and tires that makes the model capable of more than 1 g of lateral acceleration and a sub-three minute lap time at Virginia International Raceway's Grand Course. It is offered on Camaro SS coupes with manual transmissions.
"The Camaro 1LE combines the best elements of the SS and ZL1 to take road-racing performance to a whole new level," said Al Oppenheiser, Camaro chief engineer. "That the 1LE breaks the three-minute lap at VIR puts it in the upper echelon of performance cars. That it starts under $40,000 makes the Camaro 1LE one of the most affordable, most capable track-day cars offered by any manufacturer."
In anticipation of consumers entering the 1LE in amateur-racing events, Chevrolet is pursuing SCCA approval of the 1LE package for Touring Class competition.
For 2013, all Camaro SS models including the 1LE will feature standard variable-effort electric power steering and an available dual-mode exhaust system. Both features were introduced on the ZL1. Additionally, 2013 Camaro LT, SS and ZL1 models are available with Chevrolet's color touch radio with MyLink infotainment system.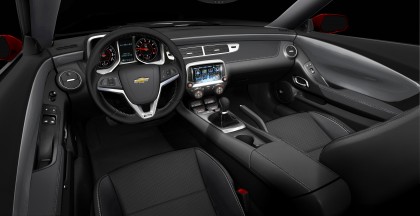 "With the 2013 model year, Camaro offers something for almost every driver, including: the 323-horsepower, 30-mpg 2LS; the all-new, 580-horsepower supercharged ZL1 convertible; the COPO Camaro for drag-racing; and the new 1LE for amateur track days," said John Fitzpatrick, Camaro marketing manager. "We expect the range of choices, and enhancements for 2013, will help Camaro remain America's most-popular sports car."
Camaro sales were up nearly 20 percent for the first two months of the year, building on an 8.5-percent gain for all of 2011. The 1LE package goes on sale this fall with the 2013 Camaro line. Pricing will be released later this year.
A heritage of handling
The Camaro 1LE package was introduced in 1988, inspired by Camaro's involvement in Pro-Am road racing.
For 2013, the 1LE package is offered only on 1SS and 2SS coupe models, featuring a 6.2L LS3 V-8, which is rated at 426 horsepower (318 kW) and 420 lb-ft of torque (569 Nm). In addition, 1LE is only available with a six-speed manual transmission.
While the Camaro SS features a Tremec TR6060-M10 for all-around performance, the Camaro 1LE features an exclusive Tremec TR6060-MM6. Paired with a numerically higher 3.91 final-drive ratio, the close-ratio gearing of the transmission is tuned for road-racing performance. As with the ZL1, the 1LE transmission features a standard air-to-liquid cooling system for track use.
The 1LE also features exclusive, monotube rear dampers instead of the twin-tube dampers on SS models. The new hardware allowed engineers to tune the 1LE suspension to focus on optimal body-motion control while preserving much of the ride quality and wheel-motion control of the Camaro SS.
Other changes to optimize the 1LE for track-day use include:
Larger, 27-mm solid front stabilizer bar, and 28-mm solid rear stabilizer bar for improved body control
Higher-capacity rear-axle half shafts to cope with increased levels of traction
Strut tower brace for improved steering feel and response
ZL1-based 20 x 10-inch front and 20 x 11-inch aluminum wheels
285/35ZR20 Goodyear Eagle Supercar G:2 tires front and rear (identical to the front tires for ZL1)
ZL1 wheel bearings, toe links and rear shock mounts for improved on-track performance
ZL1 high-capacity fuel pump and additional fuel pickups for improved fuel delivery during high-cornering
Visually, the 1LE package for 2013 is distinguished by its matte-black hood, front splitter and rear spoiler – as well as the 10-spoke ZL1-based wheels, which are finished in black. The functional front splitter and rear spoiler contribute to the car's on-track performance by helping to reduce aerodynamic lift at high speeds.
Inside, the 1LE package incorporates the ZL1's flat-bottom steering wheel, trimmed in sueded-microfiber and designed for easier heel-and-toe driving on the racetrack. The quick-acting, short-throw shifter from the ZL1 is also trimmed in sueded microfiber.
Electric power steering and dual-mode exhaust bring ZL1 technology to SS models
All 2013 Camaro SS models, including the 1LE, will benefit from performance technologies that debuted on the 580-horsepower Camaro ZL1.
The improvements began in 2012, when all SS Coupes incorporated the ZL1-derived chassis element: Stabilizer bars with drop links repositioned outboard of the control arms. This made the stabilizer bars four times more effective than in previous models, for improved control of body roll and crisper response to steering input.
New for 2013, the electric power steering system developed for the ZL1 will be standard on all 2013 SS models. The variable ratio, variable effort system provides light efforts for easy maneuverability at parking-lot speeds as well as increased resistance at higher speeds. This provides more feedback, and a more direct steering feel, to the driver.
Also new for 2013 is an available dual-mode exhaust system, available on Camaro SS models with the LS3 V8 engine and six-speed manual transmissions. Similar to the systems found on the ZL1 and Corvette models, this vacuum-actuated system provides a quieter driving experience at low engine speeds and a more aggressive sound at high engine speeds.
MyLink connects you
Chevrolet's color touch radio with MyLink infotainment is available on all 2013 Camaro LT, SS and ZL1 models. The color touch radio, with a 7-inch touch screen, also can be paired with an available in-dash GPS navigation system – a first for the Camaro.
The color touch radio with MyLink gives customers a higher level of in-vehicle wireless connectivity and customized infotainment options, while building on the safety and security of OnStar. It seamlessly integrates online services such as Pandora® internet radio and Stitcher SmartRadio® using hands-free voice and touch-screen controls via Bluetooth-enabled phones.
MyLink adds stereo audio streaming and wireless control of smartphones, building on the voice-activated Bluetooth hands-free calling capability already offered in most Chevy vehicles. The high-resolution, full-color touch screen display makes media selection easy to navigate.
MyLink also retains all the capabilities of today's entertainment functions, including AM/FM/Sirius XM tuners, auxiliary and USB inputs.
Note:  The 1LE image shown above is not product correct – as much as Chevrolet would love to feature the black hood with the side 'hash marks' – it's really not executable as the hood has a 'wrap' on it – and to get the congruency of 'red insert' in the hood is next to impossible for a car built on an assembly line…….