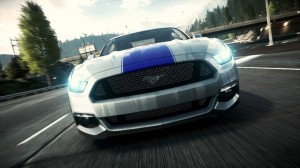 Today, gamers are being given the first chance to get behind the wheel of the all-new Ford Mustang. EA and Ford are teaming up to let players of the recently released "Need for Speed™ Rivals" video game virtually drive the hotly anticipated, next-generation Mustang before it hits the streets next year.
Just days after the all-new Ford Mustang – loaded with innovative technologies and delivering world-class levels of performance – was revealed around the world, it will automatically appear in the garage of cars available to drive for everyone playing the arcade-style racing game.
"During the past five decades, Mustang has become so much more than just a car," said Andrea Zuehlk, Ford digital marketing manager. "The feeling of freedom and independence Mustang inspires has made it popular around the world. Making it available in Need for Speed Rivals helps us share the joy that comes from driving a Mustang to even more people."
With more than 9 million cars sold in its 50 years of continuous production, Mustang has made a significant impact in pop culture, including gaming; it's been featured as a playable car in the Need for Speed video game franchise since 2005. Mustang has also made thousands of appearances in film, television and music, and is the world's most-liked vehicle on Facebook, with more than 5.6 million fans.
"We worked closely with the development team at EA to provide them with engineering data for the new Mustang, several months before we showed it to the rest of the world," said Mark Bentley, Ford product licensing manager. "Computer design models enabled the game developers to create an accurate representation of the new Mustang before it goes on sale."
Click here to learn more about how Ford collaborates with EA to put Mustang in video games.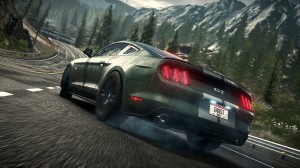 The exclusive, customized Mustang "hero car" from the upcoming Need for Speed movie is also available to drive and has been playable in the game since it launched in November. Along with the new car, Need for Speed players can also choose to get behind the wheel of the Ford Shelby GT500 Mustang, which is available as a police chase vehicle.
Click here for a video trailer of the new Mustang in Need for Speed Rivals.
"In the game, players can choose from five custom designs to give their new Mustang a unique look," said Zuehlk. "Four are selected from the designs that received the most votes in Ford's award-winning Mustang Customizer online, mobile and tablet application, plus a special bonus design created by RTR founder and Drift champion Vaughn Gittin Jr."
Available now, Need for Speed Rivals has reached worldwide critical acclaim, earning the Gold Award with a 9/10 from Game Informer Magazine, which calls the game "an exceptional experience." Need for Speed Rivals has also received an 8.5/10 from AusGamers and a 9/10 from Eurogamer.net, praising it as "a racer that any of its competitors would do well to match in the new generation."
Need for Speed Rivals glorifies the street's ultimate rivalry, daring gamers to cross the line as either a cop or racer to gain the upper hand by any means necessary. Playing either side of the law comes with its own distinct career experience, each with its own set of high-stakes challenges, rewards, pursuit technology and cars. But now, the stakes are at their highest level with an all-new scoring system where gamers put their speed points on the line and risk losing it all if busted.
Need for Speed Rivals is now available for the PlayStation®4 computer entertainment system, PlayStation 3, Xbox One, the all-in-one games and entertainment system from Microsoft and Xbox 360 , as well as for PC via Origin™ worldwide. Visit http://www.origin.com to purchase. To join the conversation on Need for Speed Rivals, please visit http://www.facebook.com/needforspeed, or follow on Twitter® at www.twitter.com/needforspeed and #NeedforSpeed. Press assets for Need for Speed Rivals are available at http://info.ea.com.