By Tom Falconer
It could hardly have looked worse, the barn-find from hell, neglected  and dried out in the sun and stripped of everything, the very definition of a basket case. It had ended up in the most south-westerly tip of England, in sunny Cornwall after an odyssey that started in Wisconsin, then south-west to Dallas, Texas. Here it was sold on eBay to a couple in London, England who imported it into Rotterdam in the Netherlands, to take advantage their then low import duty into Europe. Here it mysteriously lost its 235 inline six and Powerglide two-speed transmission, and sustained further body damage.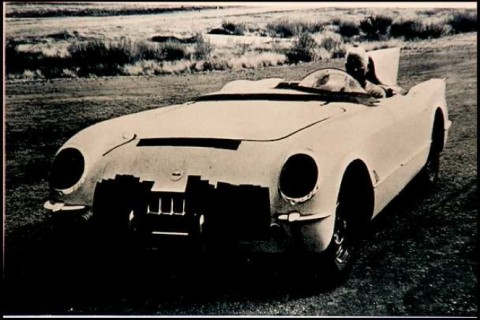 I saw pictures of it at the classic and racing Jaguar specialist in Cornwall who had taken the remains as a trade on one of his Jaguars and I just had to have it. The doors were lying on the floor because there were no hinges; everything that could be taken off and sold had gone.  It must be a failing in males like me to want to resurrect something ruined, to put right a wrong, to restore a Corvette.  The great thing about this car, apart from the price, was the missing engine and transmission. Corvettes are for driving and who would want to drive one with the 235 slug-six?  I have, and they are painfully slow. Corvette Chief Engineer Zora Arkus-Duntov felt the same when he took a 1954 Engineering Mule, removed its Stove-bolt Six and Powerglide and put in one of the first of Chevrolet's small block V8s. He subsequently drove it at 163 mph at GM Desert Proving Ground at Mesa, Arizona to prove his Duntov camshaft, and the future direction of all Corvettes.  My plan was to do the same as Zora had done fifty-five years previously and I don't doubt that this fascinating man who I lunched with in 1978 would thoroughly approve were he alive today.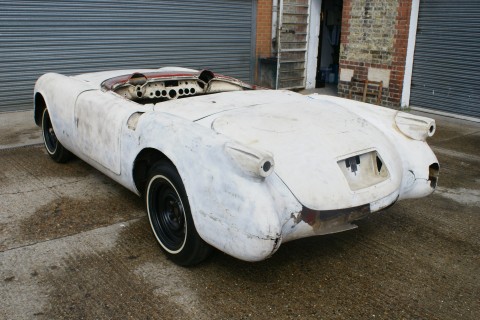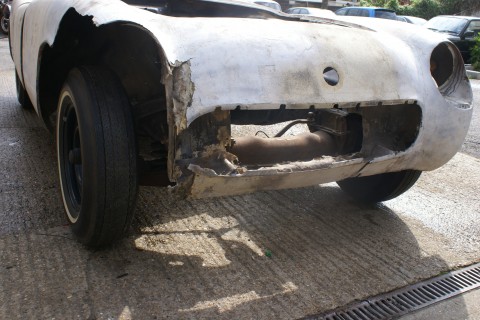 I could never do it to a good 1954, but I knew I could to this one and without damaging the historic essence of the fruit of the Corvette's second year of production. Like my fellow members of the National Corvette Restorers Society, I am dedicated to the protection and preservation of original Corvettes and knew that I could make my Duntov Replica without preventing its restoration to its factory state sometime in the future. Indeed the only damage done has been to weld in 1955 V8 engine mounts, while leaving the Six mounting plates in place.  The other worry was that all 1955 and later C1 frames were  notched to accommodate the V8's low-mounted pushrod operated fuel pump, but luckily by using a later pump without the broad ring of screws joining the two halves, there was  room to spare on the original frame.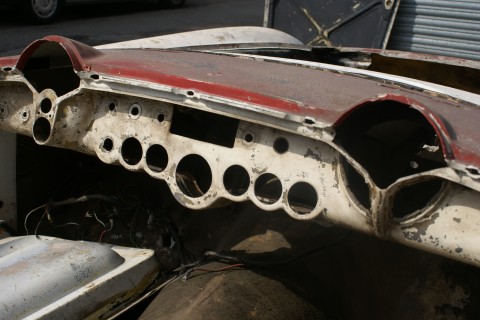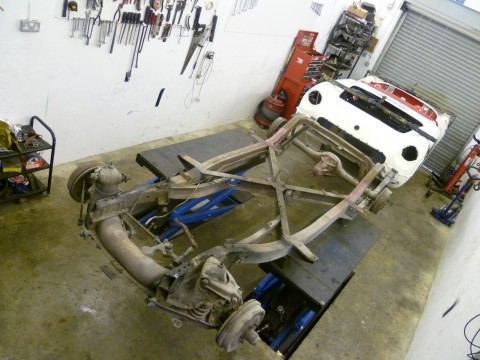 On the ramp at my Claremont Corvette shop in Kent all was revealed. The body had suffered historic impacts before the front and rear recently sustained in Rotterdam, There were  three different design 15" wheels and one 14", a broken rear spring leaf  and a 1956 axle but the chassis frame was superb, without a trace of even surface rust. With four correct wheels and tyres and the rear spring leaf replaced, the car stood square, so part body panels were secured from the USA and the body shop started the laborious three-month task of fitting, filling shaping and sanding until the body at least  looked like it did when built in St Louis on April 5th 1954.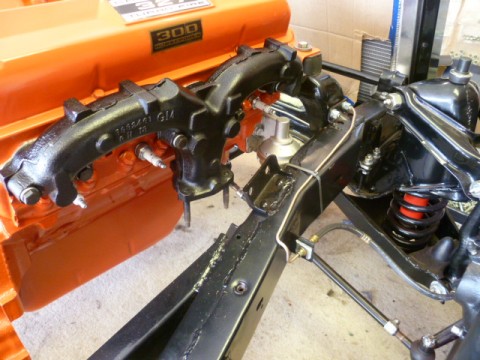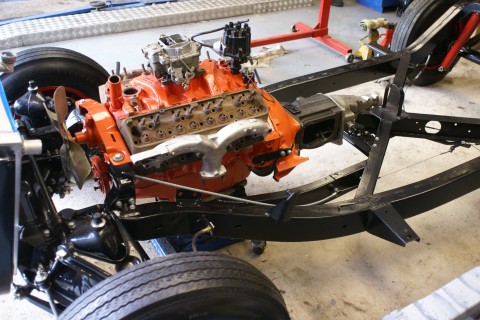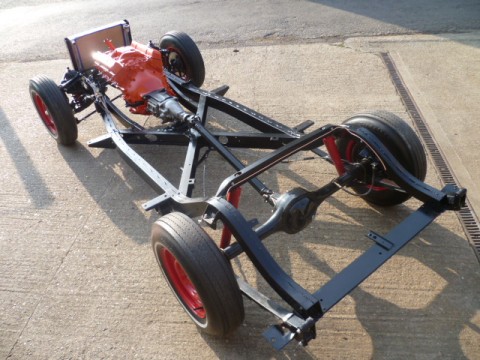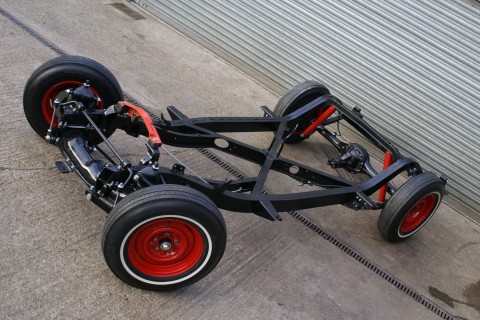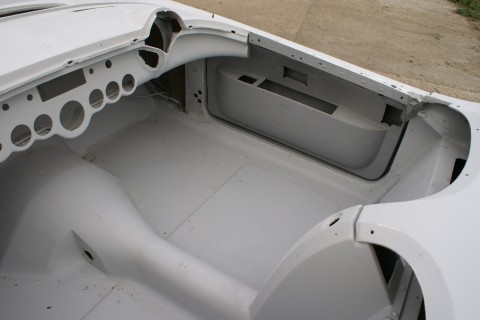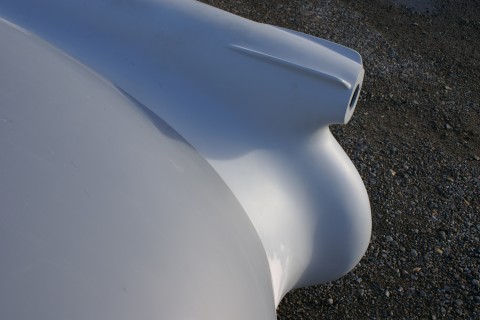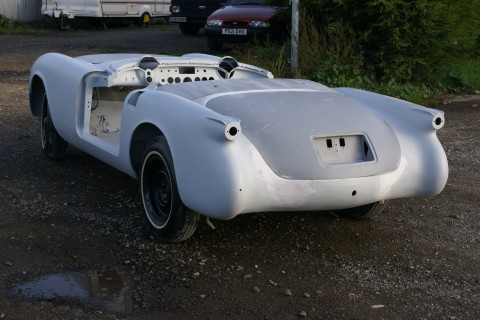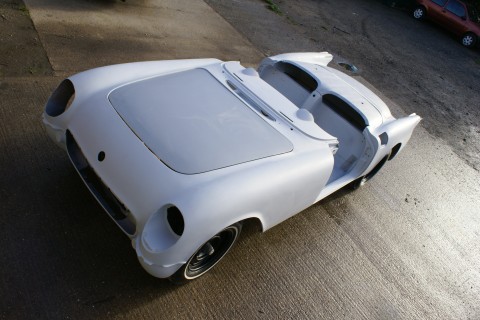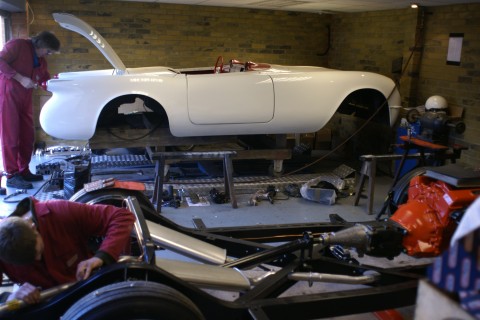 To be continued…