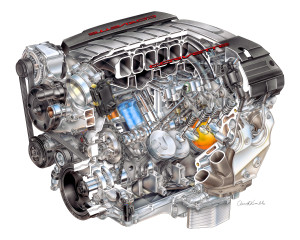 The all-new, high-tech Small Block 6.2L V8 powering the 2014 Corvette Stingray and the 2.0L turbo diesel for the 2014 Chevrolet Cruze are among Ward's 10 Best Engines.
WardsAuto reviewed 44 engines from 16 automakers in this year's competition, which looked at power, fuel efficiency, new technology, refinement and compared it with data for similar engines.
"At GM – our goal is to design, build and sell the world's best powertrains – this recognition from the experts at WardsAuto provides two additional proof points that we are on the right track," said Steve Kiefer, vice president, Global Powertrain.
"The fifth generation Small Block V-8 in the new Stingray, is an iconic brand in itself, and our new 2.0L Turbo Diesel engine in the Chevy Cruze is redefining the market with outstanding performance, strong low end torque, low emissions and segment-leading highway fuel economy – a real winner."
LT1 6.2L V8 Small Block technology, power, efficiency
"The arrival of a completely re-engineered Small Block engine family is truly momentous," says Tom Murphy, executive editor of WardsAuto World magazine. "The critics can say what they want about the relevance of pushrod engines, but how can more than a hundred million buyers of small-block engines since 1955 be wrong? The new Corvette couldn't exist without this magnificent V-8."
The all-new LT1 Small Block technologies contribute to making the new Corvette the quickest, most powerful and most fuel-efficient standard Corvette ever. The engine delivers an SAE-certified 460 horsepower helping propel the car to a 0-60 time in 3.8 seconds while offering 29 EPA estimated mpg highway.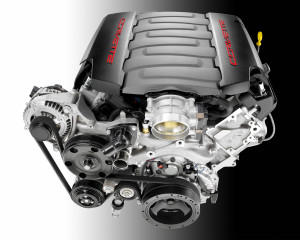 The all-new engine is the most significant redesign in the Small Block's nearly 60-year history. The LT1, part of the new Gen 5 family of Small Block engines, combines several advanced technologies – direct injection, Active Fuel Management, or cylinder deactivation, and continuously variable valve timing – to support an advanced combustion system.
Direct injection is new to the engine architecture and is a primary contributor to greater combustion efficiency by ensuring a more complete burn of the fuel in the air-fuel mixture. This is achieved by precisely controlling the mixture motion and fuel injection spray pattern. Direct injection also keeps the combustion chamber cooler, which allows for a higher compression ratio.
Increased power and efficiency result from more than 10 million hours of computational analysis including computational fluid dynamics, to make the most of the combustion system, the direct injection fuel system, active fuel management and variable valve timing systems that support it. The combustion system itself benefited from 6 million hours of dedicated CPU analysis time.
Other variants of the Gen 5 Small Block include the 4.3L V6, 5.3L and 6.2L V8 truck engines offered in the all-new Chevrolet Silverado and GMC Sierra pickups. The LT1 is manufactured in Tonawanda, N.Y., which is also home to last year's WardsAuto 10 Best engine winner – the 2.0L turbocharged four-cylinder engine used in the Cadillac ATS.
2.0L Turbo Diesel winning design, global expertise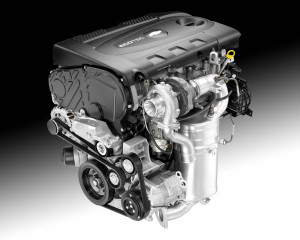 "The Chevy Cruze diesel is everything you want it to be: astonishingly efficient, whisper-quiet on the highway and shockingly fun to drive," says Drew Winter, editor-in-chief of WardsAuto World magazine.
The 2.0L turbo-diesel delivers an SAE-certified 151 horsepower (113 kW) and 264 lb-ft of torque (358 Nm). Notable is the engine's high torque level of 250 lb-ft (339Nm) from 1750 – 3000 rpm. The rich torque provides for a sustained feeling of power on demand at almost all speeds – particularly when passing or entering a freeway onramp.
The 2014 Cruze Turbo Diesel engine delivers a segment leading EPA-estimated 46 MPG on the highway and range of 717 highway miles on one tank of fuel, based on fuel tank capacity and EPA estimates – your range may be less. That is  better than any non-hybrid passenger car in America. The engine has an overboost feature capable of increasing torque to an estimated 280 lb-ft (380 Nm), for stronger acceleration periods of about 10 seconds.
Cruze's 2.0L turbo-diesel is based on a proven architecture used in European models. Collaborating with Italian and German engineering groups, GM's diesel experts in the United States adapted the engine to accommodate more stringent diesel emission standards, diagnostics and a wider range of driving conditions – including colder and hotter climates and higher altitudes – for the United States and Canada. The engine is manufactured in Kaiserslautern, Germany and also used in the Opel Astra, Cascada, Insignia and Zafira Tourer.
About Chevrolet
Founded in 1911 in Detroit, Chevrolet is now one of the world's largest car brands, doing business in more than 140 countries and selling more than 4.5 million cars and trucks a year. Chevrolet provides customers with fuel-efficient vehicles that feature spirited performance, expressive design, and high quality. More information on Chevrolet models can be found at www.chevrolet.com.