Rich & Barb Lagasse recently updated me on their incredible '63 SWC , aptly named "Split Personality" that I featured in CF several years ago..here is the link to the CF article series on Rich & Barb's website:
http://www.richsclassiccorvettes.com/Web_Page_10_-_63_Corvette_Project.shtml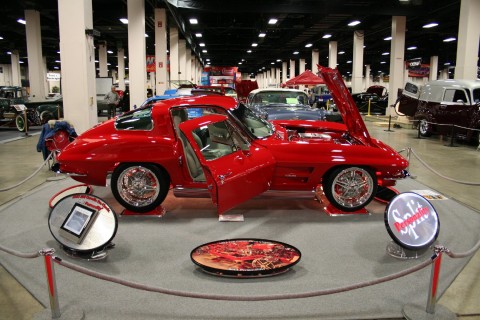 Here is the latest update:
Alan,
We finally got a chance to get out to a show with the '63 at the Boston World of Wheels. Since we hadn't been able to get to a show with the '63 in over a year due to my mother's health it was fun to get into it again. Every year we've been there it's snowed including all out blizzards. But, the show used to be held the first week in January so that wasn't all that much of a surprise. In April though you would hope the snow would be done by then for gosh sakes. Luckily it didn't turn out to be an issue as the attendance, even on Friday when it hit, was great. We always look at a show for the overall experience we have as participants. There's no doubt this show was one of the best events we've ever participated in and the overall experience (show setting, restaurants, hotel, friends, spectators, quality of vehicles and location) were outstanding.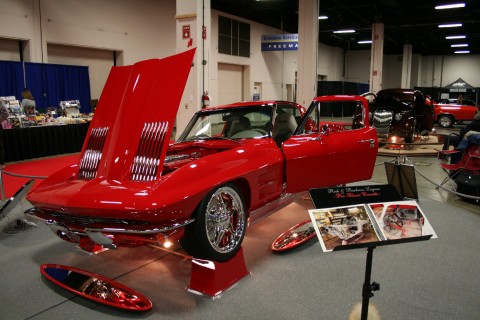 The new location for the show was at the Seaport Trade Center which was built on a wharf over the Boston harbor and the hotel was right across the street which was nice. The hotel was excellent but we don't recall ever seeing so many extra "taxes and surcharges": State; City; County; Convenience?; and a Civic Center surcharge!  We had a great time, made quite a few new friends and the turnout of cars and spectators was super. Lots of ISCA circuit cars and Great 8 Detroit cars. We had a great location and there were tons of people who kept Barb and I busy answering questions. Our voices may recover sometime this week………… Met a lot of nice folks and had great seafood every day as the good restaurants were all within easy walking distance. We won't be doing any further shows this year with the '63 but will be getting the C6 Z06 ready to hit the road again to Super Chevy shows, Corvettes @ Carlisle and the ALMS event at Road America.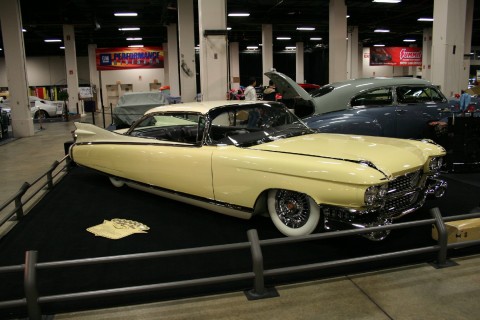 The 63 was well recognized with awards for Best in Class, Outstanding Sports Car, Outstanding Custom Engine, Outstanding Undercarriage, Outstanding Paint and also for Outstanding Display so we were very pleased with the results. The awards ceremony was held in a stadium style auditorium which was the most comfortable setting we've ever seen.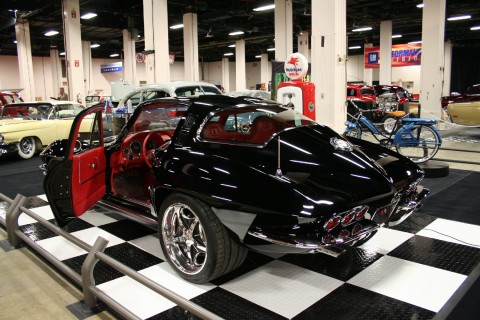 Attached are a few shots from the show. The Caddy was a real "land yacht". Had it been floatable would likely have been cruising in Boston harbor! There were several nice restored as well as modified Corvettes. Hope things are going well for you and your family. Feel free to use the text and pictures on your site.
Take care,
Rich & Barb Lagasse
Web Site: http://www.richsclassiccorvettes.com
E-Mail: richsclassiccorvettes@cox.net