Lingenfelter Performance Engineering is excited to return to the 2011 Camaro5Fest where the engine experts will run their LS9 powered 2010 Camaro SS down the drag strip as well as announce a new vehicle and engine package.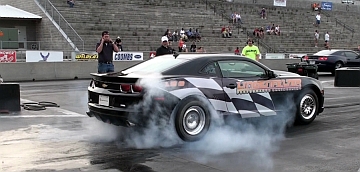 "Our Camaro holds the distinction of being the first full weight 5th Gen Camaro SS to go into the 8s in the quarter-mile – boasting an 8.997 second run at 158.8 mph last November," said Ken Lingenfelter, owner of Lingenfelter Performance Engineering.  "Since then, the Camaro has been modified with a drag race suspension package that we developed in conjunction with Pedders featuring a new RPM built face plated transmission and an LPE torque cut module.  Our team is looking forward to putting the supercharged Camaro to the test at Firebird."
The LS9 Camaro SS drag race package features a 427 CID LSX engine; Lingenfelter CNC ported GM LS3 six bolt cylinder heads; face plated TR6060 Trans by RPM Transmissions; Strain gauged shifter; and LPE (LNC-TC1) 2-step with shift torque cut.  Lingenfelter recently conducted chassis dyno testing completing a WOT 3-4 shift with both stages of nitrous, tuning both the initiation and duration of the torque cut.  A Mustang dyno set in vehicle simulation mode and shifting at 7200 RPM produced more than 1,200 rear wheel horsepower in the 4,100-plus pound vehicle.  To see the car in action, visit Lingenfelter's YouTube page at http://www.youtube.com/watch?v=Fcb-JS4HAuM.
The second annual Camaro5Fest takes place April 14-17, 2011, at Firebird International Raceway in Phoenix, Ariz., and will feature a car show, drag racing, autocross events and vendors.  Lingenfelter will co-sponsor the autocross event with Pedders USA and will be sponsoring the Sunday breakfast.  They will be located in Vendor Alley.  For more information, visit www.camaro5.com.
For more than 32 years, Lingenfelter Performance Engineering has created a matchless heritage of bringing astounding new capabilities to the world's most sought-after sports cars.  This legendary record of precision engineering continues today, as the highly skilled Lingenfelter production team continues to target design excellence in engine packages, superchargers and high-performance aftermarket components that refine power, speed and control.  For more information, visit www.lingenfelter.com, contact Lingenfelter Performance Engineering at 1557 Winchester Road, Decatur, IN 46733, or call 260.724.2552.