MARENGO, Ill. – Mecum Auction is proud to offer renowned muscle car collector Mike Guarise's Nickey Collection – featuring seven of the finest and rarest Nickey cars ever built by the iconic Chicago dealer – during the 24th Original Spring Classic Auction, May 17-22, 2011, at the Indiana State Fairgrounds, Indianapolis, Ind.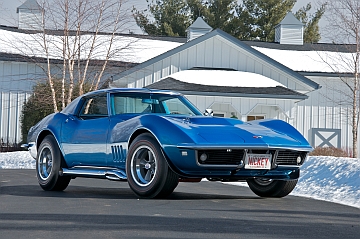 Mike Guarise 1968 Corvette Coupe
Collectors will now have a chance to acquire one of these exceptional vehicles – each of which has been certified authentic by legendary Nickey Performance Manager Don Swiatek and listed in the Nickey Registry, Inc. – when they cross the block on Saturday, May 21.
Guarise is a passionate collector who has sought out and restored 10 Nickeys over the years.  Among the Nickey cars being auctioned is a 1967 Chevrolet Nickey/Bill Thomas 427 Stage III Super Camaro, the only 427 conversion car certified by the late Bill Thomas himself.  A Bolero Red coupe with Black bucket interior, this historically significant Camaro is the pinnacle of the Mike Guarise Collection and has been featured in three books: "Camaro – Forty Years" by Darwin Holmstrom as well as "Camaro" and "The Complete Book of Camaro" by David Newhardt.
Mecum will also offer a 2002 Nickey/Bill Thomas 427 Stage III Camaro as well as a 1968 Chevelle L78, show-stopping 1968 and 1969 Corvette Coupes with the 427/435 HP engine, a 1968 Malibu L79 and a 1970 Camaro Z28 Coupe LT1, all of which were sold at the infamous Nickey Chevrolet.  For complete details, visit www.Mecum.com.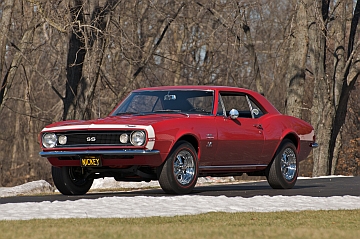 Mike Guarise 1967 Super Camero
More than 2,000 vehicles, motorcycles and memorabilia will be featured during the Original Spring Classic Auction, which has grown into a six-day event and will broadcast nationally on "Mecum Auto Auction: Muscle Cars & More" on HD Theater.
The auction is open to the public for only $15 per day.  For more information or to preregister to bid, visit www.Mecum.com or call 815.568.8888.