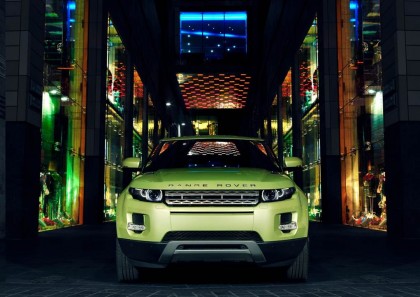 By Tony Whitney
When I first saw the Range Rover Evoque at one of the big international motor shows earlier last year, I loved the way it looked, but took it for a stylish luxury crossover, more at home cruising along an elegant shopping street or down to the golf club than than charging through the forest and over the mountains.
In fact, nothing could be further from the truth. The Evoque is capable of just about any off-road chore that other Land Rover products are known for handling. To prove the point, Range Rover hosted its North American media launch in in the Whistler Village area of Western Canada – epicenter of the 2010 Winter Olympic Games. We took a run all the way to the top of the primary ski hill – over 6,000-feet above sea level (and we started this particular day's drive at sea level). And what's more, we didn't stick to the well-graded gravel service roads used by ski area maintenance equipment, but also travelled all kinds of old, washed-out, trails that would place serious demands on any off-road vehicle. Some of them had deep gullies across them that could only be traversed by driving diagonally (and very carefully!) through the obstacle. Thankfully, it was to early for there to be any serious snow much below 4,500-feet. More than likely, other Evoque press events made use of territory like this to prove that the vehicle is more than just a boulevard cruiser and no doubt other media attendees were as impressed as we were.
It was amazing how the Evoque handled this kind of territory, but confirmed that British (though Indian-owned) manufacturer Land Rover is determined that every one of its products can go just about anywhere, even if it seems too elegant to handle it. These are what the company calls "classic Land Rover elements." I've been able to drive Land Rovers all over the world in recent years, including such places as Iceland, the Arctic, the Rocky Mountains and the Gulf States. Everywhere I travelled – from glaciers to deserts- the amazing vehicles performed flawlessly. The Evoque has every right to be classified with the best of them.
The Evoque is a great looking SUV and the new lineup has a major surprise in it – there's a Coupe version available. This is a bold move because nobody's tried a 2-door luxury SUV for years, although in the early days of sport utility vehicles, two doors was the norm, though rarely in the upscale segments. While both variants look very handsome, I liked the Coupe a lot for its originality. Both Evoques look great, but the Coupe has something special. And it's not cramped in the back either,  as many may think. There's the same amount of room back there as there is with the 4-door Evoques and it's pretty easy to climb inside too.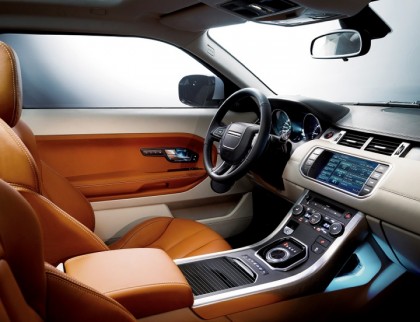 Both Evoques are fairly compact, which means they're very easy to maneuver and park. This means a lot for a city dweller. Other Range Rovers are bulky vehicles that are not among the easiest to handle around town.
Although in Europe engine choices are dominated by diesels, the "sports superstar" of the Evoque range (which includes "Pure," "Prestige" and "Dynamic" variants) is the one with the 2.0-litre 4-cylinder turbo engine delivering an impressive 240-horsepower and 250 lb-ft of torque. This is the powerplant we get in North America. It's no slouch and is capable of hauling the vehicle over very steep grades, but on the freeway, it's surprisingly fast, smooth and quiet, considering it's "only a four-banger." The transmission – as with all the other Evoque models – is a 6-speed automatic which drives all four wheels on most versions aided by a "Terrain Response" sequence selected by the driver using console buttons – snow, mud, sand and so on.
Key tech highlights include anti-lock brakes and a full range of electronic stability aids, tire pressure monitoring, climate control, Bluetooth compatibility, an 11-speaker 380-watt stereo system and many other convenience and safety features.
Despite its modest price for a Range Rover, the Evoque has a wonderfully luxurious interior that's only a little short of the bigger models. It seems almost as roomy as a big Range Rover, so someone has done some clever packaging here because the exterior dimensions are very trim. There's an amazing sunroof which is probably the largest I've ever seen on a vehicle in this class – there's a full panoramic view for those who aren't concentrating on driving the vehicle. It doesn't open, but that doesn't seem to matter that much. Leather trim is optional, plus one or two other goodies that aren't included with the base Evoque – though only a small number. One unique feature is a "puddle light" that shines a profile of the Evoque onto the ground where you step in or out of the vehicle – fascinating, and surely a first for any maker! Believe it or not, Land Rover is actually talking about a convertible version of its Range Rover Evoque!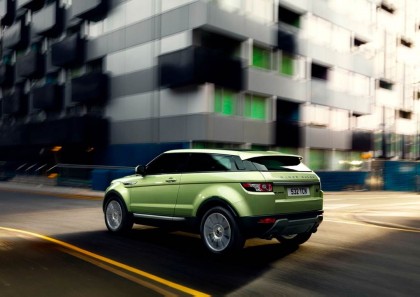 The new Evoque is quite a surprise from Range Rover, though we knew it was coming for some time. It brings ownership of the brand to a whole new group of buyers and will probably attract people who normally make do with less distinguished nameplates. As a companion vehicle to a nice new Jaguar XF, it would be just perfect. Its compact dimensions actually make it far more useful for smaller towns and cities than its larger siblings in the Land Rover lineup. As a bonus, the Evoque has already won numerous "SUV of the year" titles during 2012 and that augers well for the future of this famed UK vehicle manufacturer and pioneer of the SUVs that are so common today. Prices start at $43,145.
Tony Whitney awhitney@telus.net