by Tony Whitney
Recent years have seen a buzz of activity among manufacturers of upscale and exotic sports cars anxious to create models with full 4-seat capability. Typical examples have been the Porsche Panamera and the Aston Martin Rapide, both of which have four doors as well as four seats. Lamborghini tantalized car buffs a couple of years back when it showed its Estoque 4-seater concept, but the project appears to have been stillborn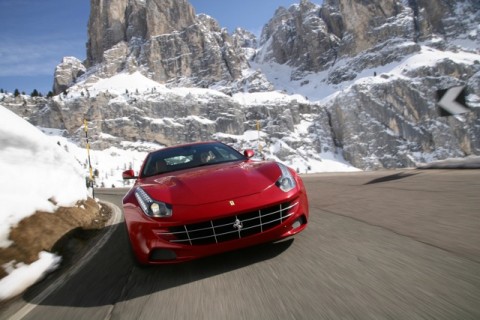 Ferrari didn't go the 4-door route with its new FF, which must have drawn a sigh of relief from aficionados of the marque, but it does have full four occupant capability. Shown to the world at the recent Geneva Auto Salon, the car is, in fact, the latest in a long line of 4-seater speedsters from the legendary Maranello nameplate. Ferrari had a 4-seater car as early as 1948, but is best remembered for the 400 models of the 1970s and the more recent 456 when it comes to packing the passengers in.
Interestingly, the FF marks two key milestones for Ferrari. It's the first Ferrari to feature four-wheel drive and it has the largest capacity engine ever produced by the famed Italian maker – a 6.3-litre V-12. I've long been an advocate of four-wheel or all-wheel drive for high-performance cars – it simply gets the power to the road more effectively, whatever the weather. Drive an Audi R8 Quattro or a Porsche Carrera 4 on a winding wet road with any enthusiasm and you'll find out exactly what I mean. Ferrari is a latecomer to supplying power to all the wheels in a sports car since Lamborghini, Porsche, Bugatti and many other high-end manufacturers have been following this route for years.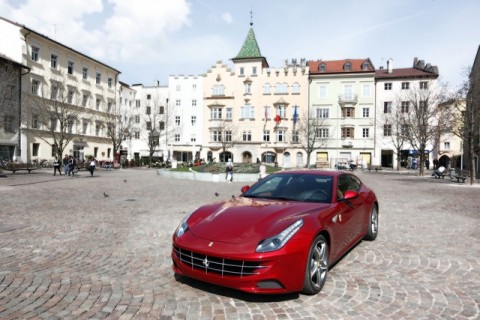 The bodywork for the new FF was penned by coach-builder Pininfarina, whose association with Ferrari goes back to the 1950s. This is a very handsome car indeed and has that Ferrari nose job  that's been used (apart from the FF's high-tech LED lighting) in some form or another for many decades. This is very much an evolutionary styling job in many respects. The profile is rather "hump-backed" like a Porsche Panamera, but that's the only way that a couple of adults could possibly find comfort in the rear seats. Overall, it will draw far more gasps of admiration than petty criticisms about its roofline. There's some nice detailing along the side of the body, including a mesh vent with an adjacent prancing horse badge which must be one of the most recognized logos on the planet. There's a fairly large rear hatch opening to a decent load area, which places this Ferrari truly in the grand touring class. There's not much point in having an exotic sports car that will hardly take any luggage at all and there are lots of them out there. In fact, the FF has more cargo space than many saloon cars, which is almost unheard of in an exotic. This is a front-engined car, as the passenger layout would obviously demand.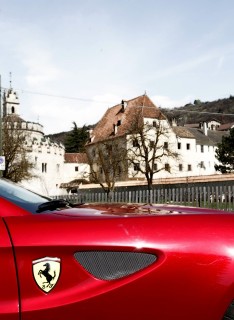 The mighty direct injection 660-horsepower V-12 engine provides vast amounts of power and the Ferrari four-wheel drive system makes sure that none of it is lost between the big Pirelli tires and the road. Ferrari claims that its 4WD system is half the weight of any comparable rival and it really does help weight distribution – a key handling point for any performance car. According to Ferrari, the 4WD distributes power to all four wheels, but in slippery conditions, the front ones get a fair portion of it. The 4WD technology works in unison with various other electronic aids this car has – stability control and the like.
The car uses a 7-speed transaxle manual/auto gearbox system, which means that it sits somewhere between the rear wheels, again contributing towards optimum weight distribution. Like all Ferraris (including those in Formula One), the FF uses ultra-powerful Brembo brakes and also adds carbon ceramic discs to the car's impressive roster of technology. Carbon ceramic brakes have improved tremendously over the last year or two – early versions tended to snatch and squeal, but the latest ones are far more driver-friendly.
It hardly needs saying that the interior of this car is a total delight. Climb into an FF and you just won't want to leave – it really is that well done. As a driving environment, it might just be unmatched by any car manufacturer. I doubt that even Ferrari has ever done a better job than this. A recent visit to Maranello and a chance to see the craftspeople cutting out and carefully fitting leather hides to the seats and trim proved that there is still a lot of hands-on work in a Ferrari interior. It shows in every corner of the cabin – there's just no easy way to create an interior like the one in the FF. The seats are perfectly sculptured front and rear and the instrument panel is a masterpiece of practicality. The steering wheel is an interesting shape, but sit behind it and grasp the rim and you'll realize that Ferrari has once again got this one "just right." As with any rival in the class, all the usual goodies are included from top-end sound to a navigation system.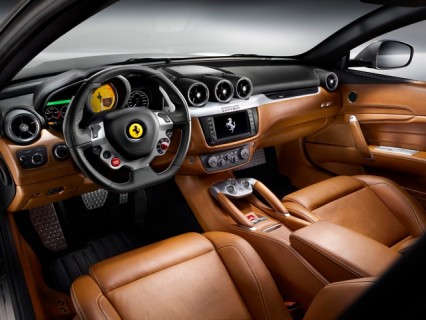 The rear seating is cleverly done – there was no attempt to try and squeeze in a third occupant back there. Rear seat passengers sit either side of a deep console/armrest with various bins and cubby holes. It's snug there, but headroom is generous and once a passenger is strapped in, comfort levels are high. There's even an entertainment system available for rear seat passengers for TV or DVD applications.
The latest in a long line of 4-seaters from Ferrari, the FF is sure to be very much sought after, especially by business users who have to accommodate passengers from time to time, but don't want to give up driving what would surely be the favourite vehicle in their stable. As a family car, it would obviously be the ultimate and with so much power on tap, crossing challenging mountain passes would be just as easy too deal with as cruising the German Autobahns at 250 km/h.
The splendid new FF won't be available for a while and when it arrives, be prepared to hit your bank account for a hefty $395,000 or thereabouts.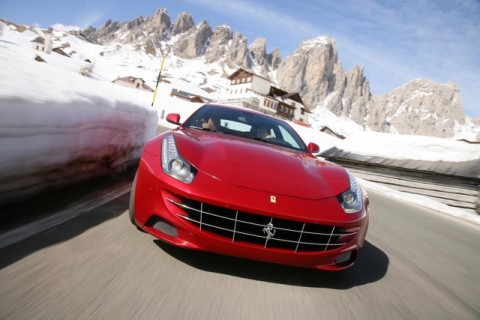 ENGINE: 6.3-litre V-12, 660-horsepower
TRANSMISSION: 7-speed dual-clutch auto/manual
ACCELERATION: Zero to 100 km/h in approx. 3.7-seconds
TOP SPEED: Around 335 km/h.
I LIKED…Mostly great looks, neck-snapping power and rock-steady handling, four-wheel drive. Luxurious and practical interior styling with beautifully hand-finished leather trim. Almost unbeatable brand prestige
I DIDN'T LIKE…Profile of car is a little ungainly, possibility of very high price
MARKET ALTERNATIVES: Porsche Panamera, Maserati Quattroporte, Mercedes-Benz CL, Aston Martin Rapide
WHO DRIVES ONE? Serious Ferrari fans will be first in line for the FF, regardless of price, but also buyers who'd like an exotic sports car but need reasonably-sized rear seats.
PRICE AND AVAILABILITY: Available during 2012 at $395,000
Tony Whitney awhitney@telus.net