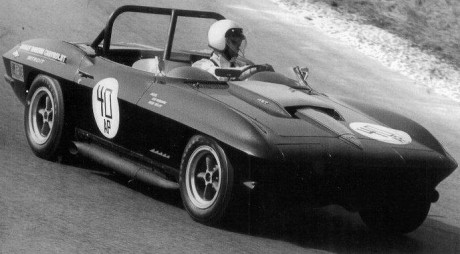 When Terry Michaelis, president of Pro Team Corvette Sales in Napoleon, Ohio, called Tony DeLorenzo, Corvette Hall of Fame racer, and told him that he bought the L88 Corvette that DeLorenzo raced for Detroit's Hanley Dawson Chevrolet in 1967, all DeLorenzo could say at first was, "Wow!"
Pro Team Corvettes and CMP Fabrication of Waterford, Mich. will return the L88 Corvette to the way it appeared (race livery) when DeLorenzo raced it at the Sports Car Club of America (SCCA) National Championships at Daytona International Speedway in November of 1967.  After completion, testing, and a media introduction, the car will be entered in several vintage racing events and shows around the Midwest.  Michaelis said he believes "Corvettes that were race cars should be restored to that condition, adding to the Corvette legend and brand identification."
Michaelis added, "I just knew that the value of this car was 'as raced' and not as-delivered by GM to Hanley Dawson Chevrolet as 'a production car.' Besides that, the collector community is tiring of static show-only cars and loves the excitement and dynamics of the Group 6 large bore vintage racers, especially when at speed on the back stretch.  The car just had to come home to the Midwest which is Tony D.'s backyard and convenient to the future scheme of things."
Terry Michaelis and Chuck Ungurean, a central Ohio collector, purchased the black 1967 L88 Corvette in August 2010 for $1,325,000.00 at a Pebble Beach/Monterey, Calif., collector car auction. Why so much?  Michaelis explained that only 20 1967's came equipped with the rare L88 option package with almost 600 HP engine, and this particular car is the first production RPO-L88 made, and it is a black convertible (1 of 1).  Michaelis added, "This is 'the' car that DeLorenzo made famous, and 'the' car that made DeLorenzo famous, and subsequently helped DeLorenzo secure the Owens-Corning Fiberglas backing/sponsorship in the later years of his racing career.
Tentative schedule of vintage race events for DeLorenzo and the Hanley Dawson L88 includes Waterford Hills (Mich.), July 29-31; and Elkhart Lake (Wisc.), August 19-21 and September 9-11. There will be updated announcements and schedules published as the project nears completion in early May.
View photos of the '67 L88, facts about the car and Tony DeLorenzo's racing biography.