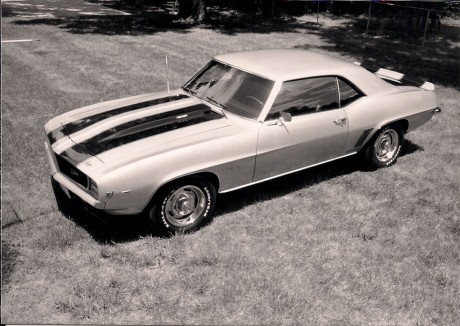 1969 Z/28 CROSSRAM RESTORATION
The 1969 Z/28 Camaro has quite a history.  It all started in the winter of 1966 when a man named Vince Piggins had a vision of creating a race car with some odds and ends lying around the parts bin.  He hoped to sell enough to the general public to qualify the car for S.C.C.A. (Sports Car Club of America) competition.  The first Z/28 was built halfway through the 1967 model year with most cars ending up in the hands of Chevrolet dealers with SCCA ties.  Only 602 total Z/28's were built in 1967.  In 1968, 7,199 Z/28's were built and Chevrolet began to see the ponycar trend shape up in their  stable.  Most 1967-68 Z/28's were usually bare bones models to mimic their brothers on the SCCA road race courses.  By 1969, the option code boxes began to fill up on customer order forms and the total appeal of the car as a whole began to take shape.
The drivetrain of the first generation (1967-69) Z/28 basically remained the same.  Two major options made available in 1969 were 4-wheel disc brakes and a 2×4 cross-ram carburetor setup.  These two options were available in 1968, but only through local service departments.  In 1969, both options became available as a R.P.O. or Regular Production Option and were made available on a factory-built car.  Due to their exorbitant price, very few cars were produced with these options.  There are no records on the number of cars that were ordered with the cross-ram.  Only 206 cars were equipped with the 4-wheel disc brakes.  Most 4-wheel disc brake setups were ordered on Z/28's, but supposedly at least one set has been verified on a 396 pace car convertible that was used a festival car at Indianapolis Speedway in 1969.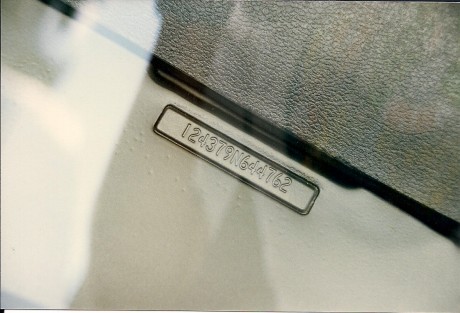 The 1967 and 1968 Z/28's were basically the same car with a few minor exterior changes.  In 1969 the body line design was changed to a "coke bottle" rendition, although the basic body remained the same. Many people believe this change in body lines rendered the most desirable Camaro body ever.  Many color combinations and interior changes also came along with the body change.
Mechanically speaking, the car improved in several areas.  First of all, the 1969 302 block now incorporated four bolt main bearing caps and thicker main bearing webs.  This was done for greater bottom end strength at higher RPM's.  Another first for 1969 was the decision by Chevrolet to put a factory Hurst shifter in all high performance 4 speed cars, not just in Z28's.  This was done to improve the ability to powershift the car without the shifter binding up because of engine torque.  This had been a problem with the '67 and '68 Z28's because they had factory-installed Muncie shifters that were bolted to the crossmember. All '69 Z28's now had 15×7 inch Rally wheels,  while in contrast, the '67-'68 Z28's were  fitted with 15×6 Rally wheels.  Cowl induction was also made available for the first time as a result of the new SCCA ruling that no longer allowed underhood cold air systems.  This hood scoop picked up air from the high pressure area at the base of the windshield.  Most factory equipped cowl induction hoods were steel, but a limited run of fiberglass goods were built for SCCA.  It is ironic that these fiberglass hoods were later replaced with steel hoods since the fiberglass hoods could not stand up to the rigors of racing.
Another option that was available in 1969 only was the NC8 chambered exhaust system.  This exhaust system utilized four 3 inch crimped tubular mufflers which were bent to fit up in the chassis of the car.  This exhaust system was standard on all 1969 Z/28's and Super Sport 396/350 and 375 HP cars built prior to December 4, 1968.  The basic design of the exhaust system and low grade materials that were used resulted in the system being recalled by Chevrolet late in the model year. In fact, I used this car to check my manufacturing fixtures for my C & C Automotive stainless chambered exhaust back in the 1980's.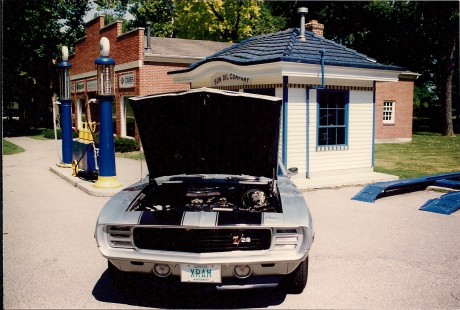 Our feature car this issue is a Cortez Silver Rally Sport Z/28 that was once owned by Gary Jestice of Dayton, Ohio. Gary bought the car from Jay Nixon in Indiana in 1982. It was a national award winner throughout the United States for many years. Gary owned the car for over 10 years but I have lost track of the car since he sold it. In fact, I brokered the sale of this car and his '70 SS LS6 Chevelle way back when.
As you can see, this car had some of the rarest options a Z/28 could be fitted with, the most obvious being the cross-ram setup.  After Gary bought the car in 1982, he believed the performance could be improved by installing the cross-ram, if he could locate one.  After searching for several months, he finally found a complete NOS system including all gaskets and hardware. At this point, the work had just begun.  He ordered the first design Chevrolet off-road camshaft and kit.  He even had the cylinder heads removed and the screw-in-studs and guideplates installed per Chevrolet Service Specs.  After all the internal engine work was completed, the cross-ram was finally installed.  Due to the fact that there are no choke assemblies on the carburetors, the cross-ram was not recommended for use on the street by Chevrolet.  This problem was corrected simply by installing special power valves and new jets in the carburetors.  Gary is very discrete on what was actually changed, but his mods way back when really made the car run correctly. The new camshaft was also degreed in at 4 degrees advance.  This special combination allowed the Z/28 to get 13 MPG and basically outrun everything on the street in Dayton at the time.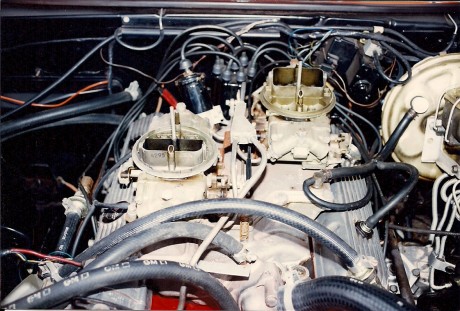 This car also was equipped with the Muncie M-21 close ratio 4 speed transmission with the 4.56 gears out back.  With this gears setup, the car could do some serious damage to unsuspecting challengers on the street.  Included in the option list on the car is the factory chambered exhaust system.  On a cross-ram car the sound of this exhaust is truly awesome.  It also features the special F-41 H.D. suspension, which includes the 1 1/16″ front sway bar.  This is regarded as the rare Trans Am swaybar in Camaro circles today.  Very few cars found today have this special suspension.
Speed is not the only option with which this car was originally equipped.  The custom black interior, tilt steering column with a rosewood wheel and gauge package make this rocket also a creature of comfort.  A GM bluelight stereo rounds out this Camaro office.
It's plain to see why this Camaro is the epitome of small block high performance.  Isn't it refreshing to see that some of these cars were still driven as they were originally intended to be?
Where is this Camaro now? Do you or someone you know…happen to know where this car is now? If yes, please let me know via email at features@alancolvin.com!
1969 Z28 CAMARO
302/290 HP
DRIVETRAN ASSEMBLY BREAKDOWN
Block:  302/290 HP (4 Bolt)
Casting#  #3932386 (early)  #3956618 (late)  #3970010 (very late)
Engine Code Suffix:  DZ, 4 speed only
Cylinder Heads:  2.02 intake, 1.60 exhaust
Casting#  #3927186 or #3927187  Note:The #3927186 is regarded as the "correct" cylinder head for all 1969 Z/28's but new Chevrolet documentation reveals that all three cylinder heads listed were manufactured and used interchangably for this application.
Crankshaft: Forged, tuffrided, cross-drilled casting #1178 or 3279
Rods: High performance nodular iron rod, shot peened, heat treated and magnafluxed.  Floating wrist pin, 3/8 bolt, color coded pink and green
Intake Manifold: Aluminum high rise, closed plenum, casting #3932472.  Optional:  Aluminum 2 piece 2 x 4 cross-ram intake, top casting #3941126, bottom casting #3941130
Carburetor:  Holley model 4150
List #R4053A, Chevrolet #3923289 DZ
Optional Carburetor: Holley Model 4150-C (Z)
List #R4295A, Chevrolet #3957859
2 x 4 Cross-Ram carburetor
Distributor:  Stamping #1111480, single point
Starter:  Stamping #1108367
Alternator:  Stamping #1100837, Deep groove pulley
Exhaust Manifolds:  Casting # Left hand #3942527  Right hand #3946826  Note: Some Cross-Ram cars were fitted with factory headers which were delivered in the trunk of the car.  Two manufacturers were used, Bill Thomas Race Cars of Anaheim, CA and Kustom Headers of Flint, MICH.  Very few cars were ordered with the factory headers due to the exorbitant price of $200 list.
Transmissions: Muncie M-21 close ratio 4 speed
Optional:  Muncie M-22 (Rockcrusher) 4 speed
Rear End: GM 12 Bolt, 3.73 ratio standard, all gear ratios optional 3.55, 4.10, 4.56 and 4.88
Mandatory Options: 4 speed transmission, power front disc brakes