by Tony Whitney (read his bio!)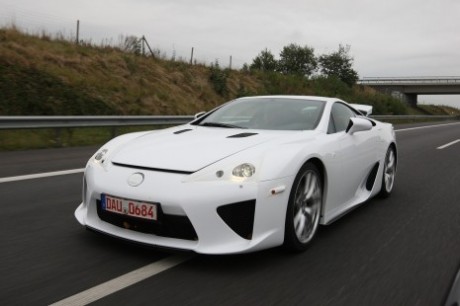 To most of us, the nameplate "Lexus" conjures up images of silky-smooth, beautifully-built, larger sedans of considerable refinement and outstanding quality. Lexus, though, wants us to consider its cars as more than just upscale Toyotas, built to pamper driver and passengers with unmatched efficiency.   It's true that Lexus has its attractive SC430 convertible hardtop sports model, but even its maker would hardly rate this as a product to bring worried frowns to the folks over at Porsche. And the IS F is one of the best small performance saloons in the world and a match for equivalent Mercedes AMGs, Audi S models and BMW M-cars, but it's not widely known and hasn't been an image-changer for Lexus.   In order to change such public perception dramatically, Lexus has set out to sprint right to the top of the most exotic sports class of all by revealing the amazing 2011 LFA supercar, which should settle the matter once and for all.
The LFA is quite simply, the most "non Lexus-like" product ever to emerge from this manufacturer and it promises to give even the Ferraris and Lamborghinis of this world something to think about. A stunning-looking coupe, the LFA is packed with all kinds of fascinating technology and Lexus has spared nothing to place this car squarely at the upper end of the supercar ranks. It comes with a supercar price too at around $375,000 and since only 500 will be sold worldwide, serious buyers should get their orders in as soon as they can because some reports say they're sold out already.    The LFA fits in well with rivals in this class with its dramatic styling, giant wheels and huge air ducts seemingly all over the bodywork. It's an exceptionally handsome car, though picky students of automotive design might point to the ultra-large rear lights as being a little overdone. It looks the part, though, and is bound to be a head-turner for many years to come – not least because you're never going to see too many of these around.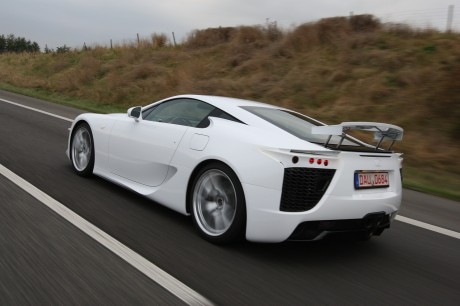 The body is fabricated from carbon fibre reinforced plastic (CFRP) and is sculpted for maximum aerodynamic efficiency. According to Lexus, using the composite material saves 100 kg when compared to aluminum. The composite is also very rigid and contributes towards impressive handling capability. To use this space age material, Lexus developed a special technique for bonding the CFRP to metal components.
Power is provided by an engine that's unlike anything we've seen before from Lexus – a V-10 displacing 4.8-litres and developing 560-horsepower. Perhaps this engine configuration will show up on other Lexus products, but there's no word on that. It seems unlikely that a manufacturer like Lexus would develop a new engine solely for a car with a production run of 500 and it's an intriguing thought that the power unit could end up in a "super sedan" at some stage. The engine is located up front and drives the rear wheels in traditional fashion. The 6-speed transmission can be operated manually using the now common steering wheel paddles or it can be left in automatic mode for city driving. The car will top 60 mph in less than four seconds and those brave enough can take it beyond 200 mph.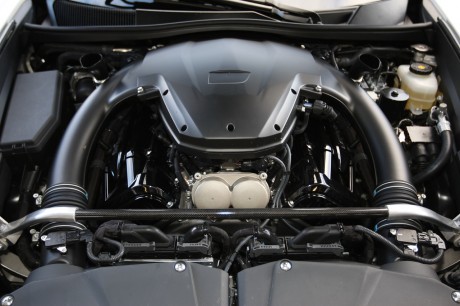 The engine and its transaxle gearbox, with various other related components, is positioned within the LFAs wheelbase to achieve almost 50/50 weight distribution – usually a major target for sports car designers. What this means is that the car is very well balanced and stable and should be "forgiving" in tight situations like mountain roads – even with fairly inexperienced drivers. Further help comes from the fact that the driver is positioned close to the LFA's centre of gravity midway between the front and rear axles. Lexus believes that this helps enhance what engineers call "car-to-driver feedback," making the LFA fun to drive and predictable in its handling.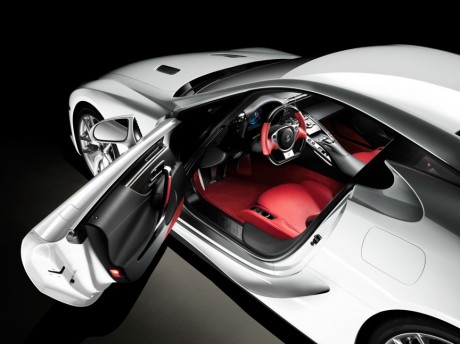 Keeping all that LFA power under control are racetrack-sized carbon ceramic disc brakes with serious stopping power. These carbon ceramic discs, once noisy and difficult to modulate, have improved a great deal in recent times and are becoming almost the "norm" in the luxury sports segment – even on far less expensive sports cars than the LFA.
The cockpit is an absolute feast of advanced technology and spirited design work. The steering wheel is a wonderful combination of carbon fibre and fine leather and the central console seems to glide gracefully out of the dash area. The seats hug the hips and shoulders, so even on a race track, this is a car that will grasp driver and passenger firmly in place however hard it's cornered. Like all
Lexus products, the fit and finish is beyond reproach and the LFA doesn't seem to have been put together with parts from other Lexus vehicles.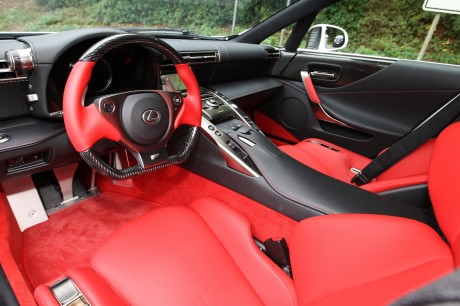 The main challenge facing Lexus is whether buyers will spend this much cash on a nameplate that has no history of high-performance, exotic, sports car production. After all, the LFA is going after rivals that have decades of experience building competition and production cars. That said, they don't have to sell that many and more than likely, there are enthusiasts all over the world ready and waiting to buy a performance car with this kind of exclusivity and the 500 examples will soon be snapped up. At the very worst, the LFA will be a "halo car," a flagship which will attract saloon and SUV buyers to Lexus showrooms and convince them that the Japanese manufacturer can excel at any kind of vehicle if it chooses to do so. It would be great to think, though, that the LFA is the first of many generations of Lexus luxury sports models and that cars like this will form a permanent element in the maker's product lineup.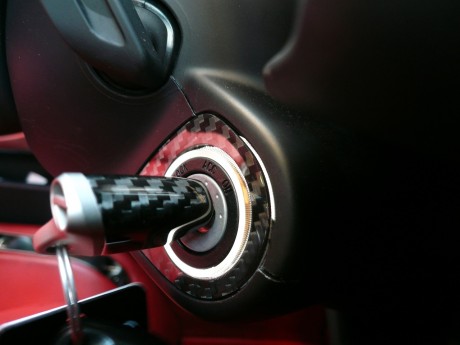 Already there is talk of other versions of the LFA besides the coupe and a roadster has been shown as a concept vehicle. Also, LFA competition cars have been built and several have raced quite successfully, including an entry in the 24-Hours of Nurburgring. It's a bold move by Lexus, which must be confident that the worldwide recession has ended and money is starting to flow in the luxury segment, but it will almost certainly pay off. For a car manufacturer that's barely 20 years old, simply to come up with a product like the LFA is an achievement in itself.
Tony Whitney awhitney@telus.net