by Tony Whitney  (Read his bio!)
I have to confess right from the start that I've always had a rather cynical view of the whole "Ferrari thing" – those legions of noisy fans crowding the stands at races around the world in a rather garish panorama of bright red and checkered flags, always with a smug notion that the guys from Maranello were somehow superior to anyone else on or off the track. Interestingly, this almost religious attitude was rife even during the non-Schumacher "down years" of F-1 when the team was often struggling to get in the points.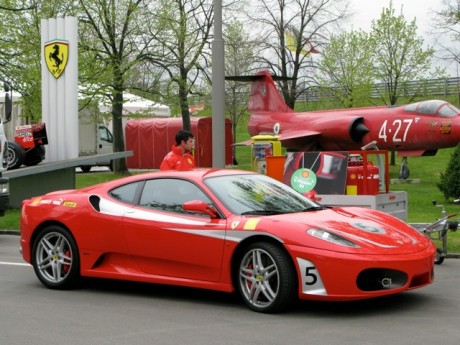 F430 used by the Pilota Ferrari track school
What exactly spawns this adoration and how is it that this nameplate somehow stands above all others with its unique message of speed and excellence? I figured that the only way to really find out what makes the Prancing Horse tick (or should that be "kick") was to get to the heart of the matter and head for the spiritual epicenter of the marque – the Maranello heartland itself.
My "excuse," as if I needed one, was to attend a celebration of fuel supplier Shell's very lengthy association with Ferrari – an association that goes back many decades with almost no non-involvement interludes.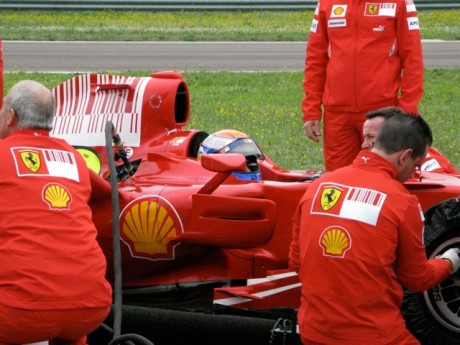 Test driver Gene preps for some fast laps
The visit was rewarding to say the least. Not only did I see the latest cars being built at the spacious and ultra-modern Ferrari factory, but I also got to drive one on the company's own race circuit – Fiorano. To serious car nuts the world over, Fiorano is a place of mystical fame – the track where just about every new Ferrari competition car gets to turn a wheel for the first time. For decades, the world's best racing drivers have lapped the track at speed and anyone who gets the privilege of driving there surely tackles the job with a sense of awe that the likes of Michael Schumacher, Alain Prost, Gilles Villeneuve, Niki Lauda, Felipe Massa, Kimi Raikkonen and many more fabled drivers were there before them.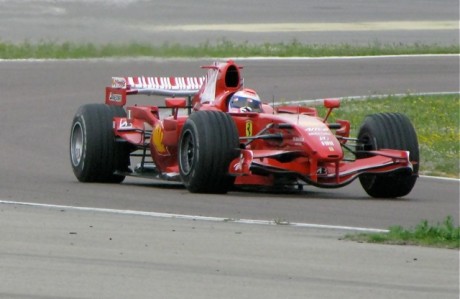 Marc Gene moving along pretty well at Fiorano
The track was constructed close to the factory (and the town centre) in 1972 with a length of 2,948-metres. Adding a new corner in 1996 to better evaluate F1 cars took it closer to 3-km. Interestingly, there's a system in place which can wet the entire track in a matter of minutes. The surface is a bitumen product produced by Shell that offers good grip and efficient drainage. There are wide runoff areas in the corners – after all, we mustn't forget that Fiorano is used to test F1 cars in full flight and safety is paramount. There's a small and modest stand accommodating just 80 people – remember that this is a factory facility and is never used for any kind of spectator events.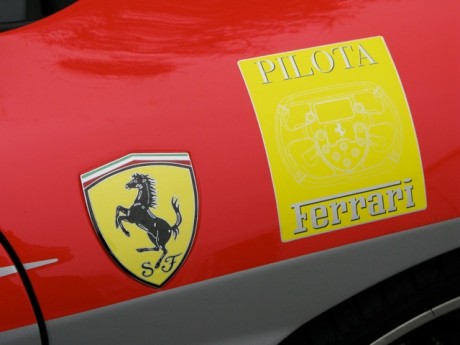 Prancing horses everywhere
Both race cars and production vehicles are tested at Fiorano and you can hear those wonderful engine sounds all over Maranello. I somehow got the idea that few people complained about it. You can be strolling down the main street and hear the scream of a performance engines echoing off the buildings – something to bring a smile to the face of any serious car nut. The track boasts a full pit garage facility and even a gym for the drivers. Not far from the track, there's a large and futuristic-looking multi-doored building housing those huge red articulated transport trucks that haul all the cars and gear to races.
Driving on the track is, of course, a total joy and not too many people get to do it. I found it easy enough to figure out and with those generous runoff areas, there's lots of room – at least, when you're out there on your own. My Corso Pilota Ferrari instructor encouraged me to "give it some stick" and I used the school F430's 490-horsepower as well as my limited abilities would allow. I was even urged to pass other cars on the track if I could, which was fun, as passing is often banned at these kinds of get-togethers. The car felt very safe and stable and with the superb track surface, I never felt out of my depth. Another day there would have been nice though!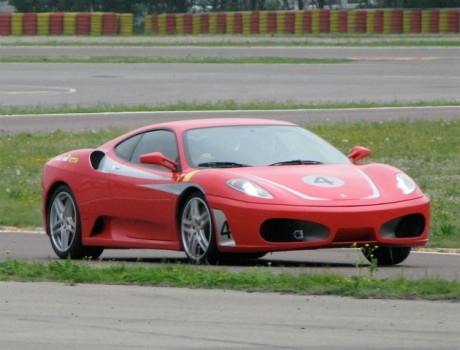 Whitney moving nothing like as fast
The (now superseded) F430 is made to be driven with verve and my laps at Fiorano showed just how close to a road-going racing car this Ferrari (and almost certainly any Ferrari) really is. However fast you think the next corner's coming up, the big Brembo brakes haul it down with amazing efficiency. Accelerating back up to speed is expectedly quick, given the horses the driver has available. The car is well balanced and responsive and in many ways, quite easy to drive. Performance was further enhanced by Pirelli's superbly grippy top-of-the-line P Zero tires.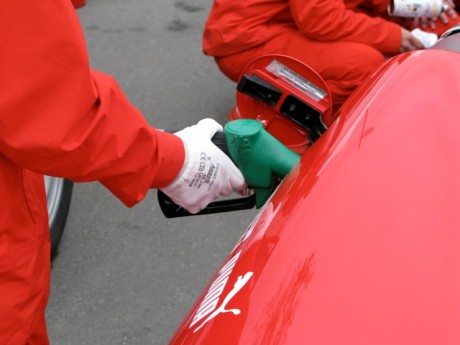 Gassing up with Shell
During my visit, Ferrari even rolled out an F1 car for a few quick demonstration laps with Spain's Marc Gene at the wheel. Gene is a test driver for Ferrari and has driven some 36 F1 races himself – he also has a win at Le Mans under his belt. He's one of those "natural PR types" and did a great job of explaining what it's like to drive an F1 car in anger. Later in the day, Kimi Raikkonen showed up for a chat, but didn't drive. He was amusing to listen to and throw questions at and I found that behind the "iceman" reputation was a rather shy guy who was clearly happier driving a race car than dealing with the endless extra-curricular activities today's sports stars have to contend with.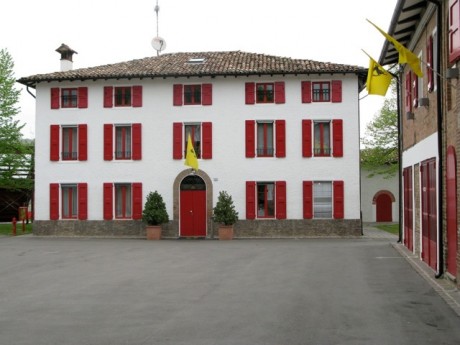 Enzo Ferrari's home
The stories I'd heard about Enzo Ferrari once living at the track turned out to be true. His elegant house is right by the centre of all the action, along with other buildings where conferences and briefings are staged. Close to this enclave, an Italian Air Force Lockheed F-104 Starfighter (Ferrari red, of course) sits on its landing gear in permanent martial glory. It was a gift to the Great Man by the Italian Department of Defence and similar to the aircraft Gilles Villeneuve matched his F1 car against in a much-publicized airstrip contest back in 1981. Gilles reportedly won by 1.1-seconds.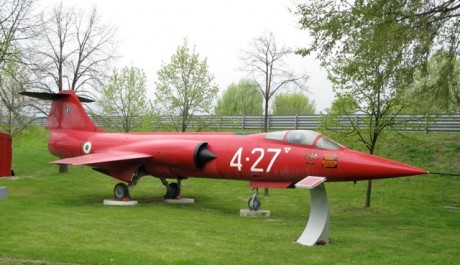 Enzo's Starfighter in his "back yard"
Arriving at the Ferrari manufacturing/head office/research complex, your first glance is dominated by a huge gleaming tubular structure that looks as much like an alien starship than anything else. In fact, it's the company's wind tunnel – no small asset when you're dealing with F1 race cars and some of the fastest roadgoing machinery on the planet. According to Ferrari, the wind tunnel's main role is in the development of F1 cars, but I'd guess the engineers sneak other products in there when required.
The 519,749 sq. metre factory turned out to be far more modern that I'd expected – an interesting combination of state-of-the art technology and hand-on craftsmanship. One fascinating corner of the plant accommodates the upholstery shop, where beautiful leather hides are laid out and cut to shape for their various roles in a specific Ferrari's interior.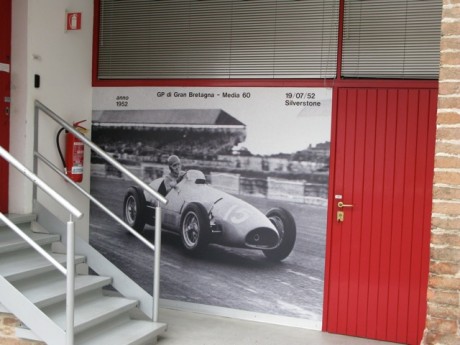 There are Ferrari images in every nook and cranny of the operation
There are reminders of the company's history and racing heritage everywhere you look. The spaces at the end of the assembly lines are dotted with historic race and road cars, so workers never forget for a moment that they themselves are playing a part in automotive history. On the walls, huge posters featuring Ferrari's epic racing history serve as another reminder that these people are not just building cars – they're building legends. The assembly line staff all wear something akin to an F1 pit crew uniform – a red jump suit bearing both Ferrari and Shell logos. These suits are another reminder of the remarkable partnership between the fuel company and Ferrari.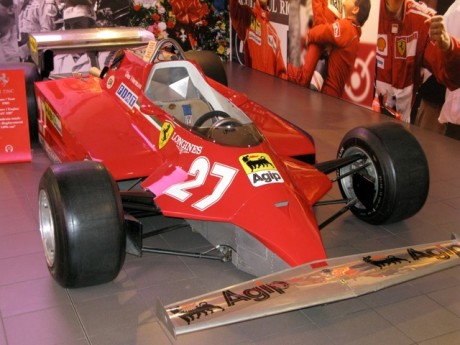 Gilles Villeneuve F-1 car
The factory is basically able to handle thee different car lines and one "limited edition" line that's used for products like the Enzo. During my visit, Ferrari was building four models – the F430 in coupe and spider (convertible) variants, the 599 GTB Fiorano and the 612 Scaglietti 4-seater. On the limited production line, the California cabriolet, with the first up-front V-8 ever in a Ferrari, was just getting started.
Ferrari has another production complex – Carrozzeria Scaglietti in nearby Modena. It's here that the body units are put together and readied for shipping across to Maranello and final assembly. Ferrari bought Scaglietti entirely in 1977 – prior to that the company built bodies under contract and handled various design roles.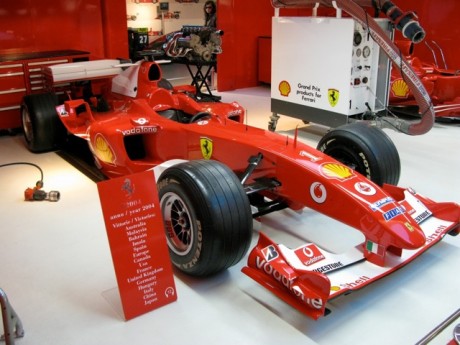 This is one of Michael's
Close to the factory, Ferrari maintains a splendid museum, which seems to contain mainly Grand Prix cars. Evidently, most of the sports racing cars found their way into private collections over the years and today, they've become too expensive even for Ferrari to buy back. Cars driven by Gilles Villeneuve are especially prominent along with huge murals of the legendary Canadian driver.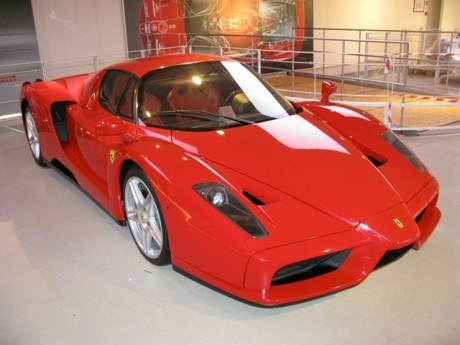 Ferrari F-1 road car in the museum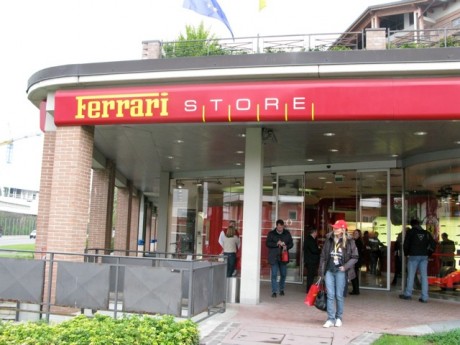 Maranello itself is a remarkable place for what is basically a small industrial city. Ferrari has a presence everywhere and the main street is lined with shops selling merchandise (official and "knockoff") associated with the high-profile brand from diecast models to designer clothing. For visitors to this Lourdes of motoring, the place to look for is the official Ferrari shop which is a treasure house of fascinating collectibles. Even as you browse, you can hear the sound of powerful engines from the nearby track – perhaps encouraging more impulse buys than you banked on. They will sell you anything here from a $10 ball cap to a Ferrari Colnago racing bicycle (at minimum $13,000) or a Panerai-made chronograph wristwatch (more than a bike).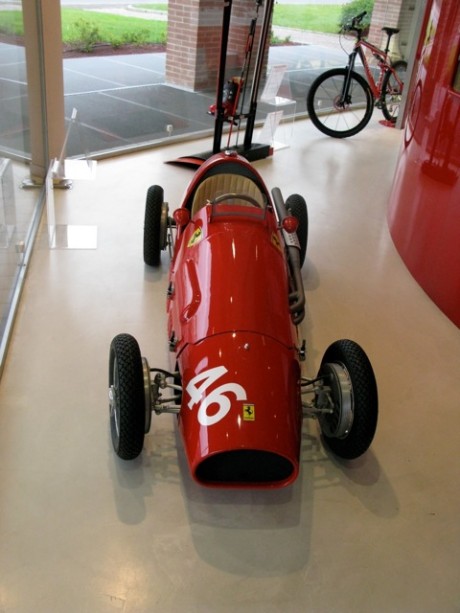 Ferrari store – this is a kids' pedal car
Any visit to Maranello wouldn't be complete without a meal at one of two famous "Ferrari-themed" restaurants in the area – Ristorante Cavallino and Montana. Both are crammed with Ferrari race memorabilia and though the food is outstanding at both (all the drivers eat there at some time or other), lovers of auto racing will be too distracted to get much wining and dining done. Cavallino is hard by the factory/track complex and again, close enough to hear that engine roar at times. The two restaurants are more or less museums and it's a toss-up which has the best stuff. Montana has more driver uniforms and Cavallino boasts a wider range of hardware – it's best to go to both.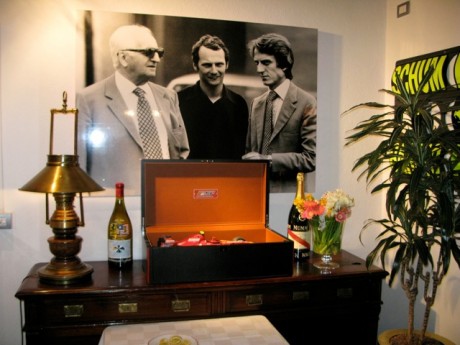 Cavallino Ristorante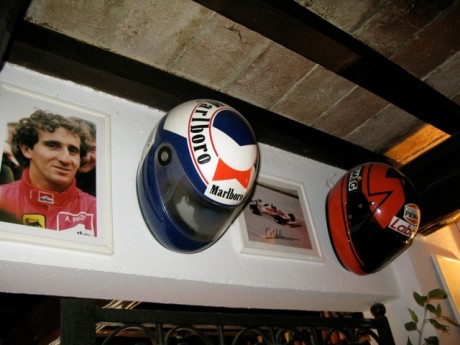 Cavallino Ristorante (Prost/Villeneuve)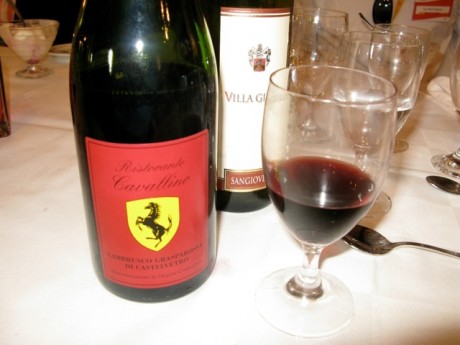 Ferrari wine at Cavallino Ristorante in Maranello
Ferrari has had much to celebrate in recent times. It's not long since the company's 60th anniversary was celebrated and more recently, Ferrari has been marking an amazing 60-years of working with Shell almost continually as a fuel and lubricant supplier. There are probably very few corporate partnerships anywhere in the world of sport that have lasted as long as that between Ferrari and Shell. In fact, it's hard to think of a Ferrari logo without the Raymond Loewy-designed Shell scallop somewhere close by whether you're looking at an F1 car or a pit uniform. And Shell has made a significant contribution to Ferrari's success, even though fuel formulations are quite restricted. When Marc Gene had his F1 car prepped for the track for the demo drive, it was topped up with standard Shell V-Power pump fuel and he noted no significant performance loss.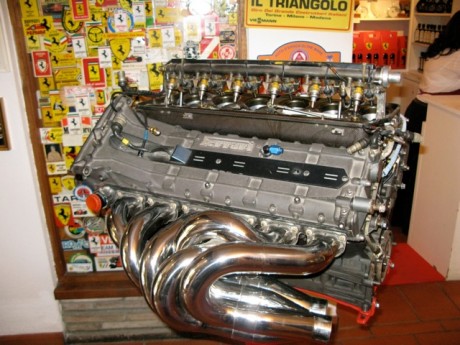 When did you last see one of these in a restaurant lobby?
Visiting the factory complex and driving a Ferrari on its home track really brings out the undeniable culture of performance and engineering quality that has been part of the great Italian manufacturer's way of life for decades. From now on, count me in as a Ferrari "convert" but even so, I won't be wearing all that garish gear at the F-1 races!
Tony Whitney awhitney@telus.net