I am sad to report that a good friend of mine,  Joe Mondello "Mr. Oldsmobile", passed on from this world this morning at 9:21AM on April 6th, 2011. A viewing will be held at Hood's Funeral Home at 2371 Highway 127 (Exit 317 from I-40) (Also known as Main Street) Crossville, TN. 38572 /931-456-4663. I will post more information as it becomes available. A true cylinder head genius "has left the building" for the last time. His friendship will be sorely missed by all of us.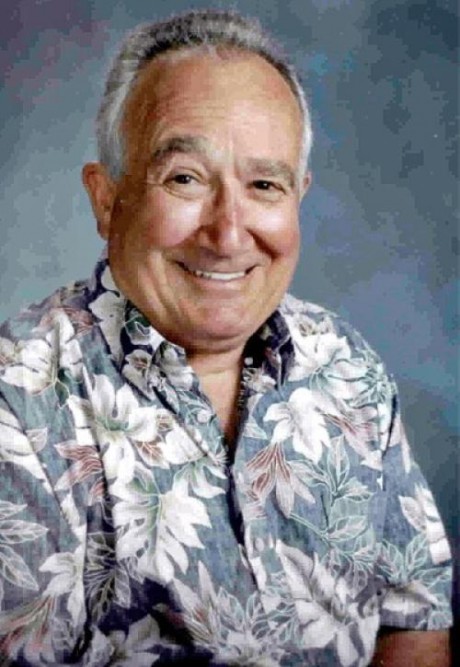 This is a biography of Joe Mondello's career & on-going involvement in racing and the high performance industry that is posted at http://www.nitrogeezers.com/joe_mondello.htm.
Discuss the automotive aftermarket, and inevitably the conversation will include references to Joe Mondello. Mondello is one of the only automotive aftermarket legends that has set benchmarks in the industry in every decade since the 50's, and now teaches his craft to willing participants at his Mondello Technical School in Paso Robles, California.
Joe was the first hi-performance manufacturer in the 60's to create a national parts distribution program for hardcore racing parts, with nationwide stocking distributors carrying all types of Mondello Posi-Flow® small block and big block Chevrolet racing cylinder heads that were out-of-the-box ready to run. It was Bill Smith at Speedway Motors that proved to be the largest distributor. Other distributors included, High Performance Warehouse, Blairs Speed Shop, Moon Equipment, Arrow Distributing, S&K Speed, Jack Merkel Auto, Carrolls Automotive, Pro-Motion, General Motors (for R&D use and distribution), Hank's Speed Shop, Jim Oddy (Oddy's Performance) and a multitude of other distributors across the USA.  He created the open chamber big block Chevrolet combustion chamber & piston well before the car manufacturer. Mondello's Posi-Flow® Combustion Chamber design – introduced in 1961 – is now being utilized by every aftermarket cylinder head manufacturer: Chevy, Ford, Mopar, DART, World Products, Brodix, CNC Cylinder Head, Indy Cylinder Head, TrickFlow, Edelbrock, etc.  Joe was responsible for many of GM's head designs.
Joe's Posi-Flow® design combustion chamber was the first and only combustion chamber design that created a swirl, and according to Mondello, "now we know why my heads ran so much better than all the others." Mondello's design is a lung shape that's pulled back on the intake side to swirl the air and fuel across the spark plugs and keep it swirling out the exhaust port. Mondello still uses this same design 40 years later with incredible results.
Mondello's involvement with land speed records goes all the way to Bonneville and the countless other dry lakes in and around California. Joe's cylinder heads were used by Doug Cook, Jim Lindsay, Kenz-Leslie, Larson and Cummins, Joe Pisano, Nick Arias Jr, Nick Arias III, Leland Kolb, Dean Moon, Mammoth Automotive, Dave Davidson, Ron Bizzio, Ak Miller, Craig Breedlove, and the legendary Mickey Thompson, just to name a few.
Early drag racing records were set & broken using Mondello heads.  The first 7, 6 & 5 second Top Fuel runs & the first 200 MPH runs in Top Gas, Top Fuel, Injected Fuel & Fuel Altered were all accomplished using Mondello cylinder heads.  Many of these records were set by none other than Big Daddy, Don Garlits making Mondello cylinder heads the most recognized in the nation.  Over 95% of A, B & C class Blown Gas Supercharged cars also ran Mondello heads.  All of the drag racing museums have many famous cars displayed with Mondello's decals & lettering on them.
In the 60's & 70's the most winning U.S.A.C. & Outlaw Sprint cars were equipped with Mondello Posi-Flow heads.
Mondello was also instrumental for research and development work with Ford Motor Company (FoMoCo) in the design, development, and shaping of the 429/460 cylinder head program, including the Cobra Jet (CJ), Super Cobra Jet (SCJ), and Single Overhead Cam (SOHC) series engines. Mondello ported over 40 sets of prototype cylinder heads to develop street and performance designs. This cooperative program lasted over one year. The chamber shape on the SOHC was designed and reshaped by Joe Mondello.  All the Shelby Cobras that placed first, second, third & fourth at Le Mans Grand Prix in 1964 were running Mondello heads.
Joe also assisted such notables as Honda (R&D on the 4-valve single cylinder racing heads for six years), Harley-Davidson (in the early 70's – now factory engineers & techs attend the Mondello Technical School), and American Motors (R&D work on the 390 and 401 heads). Shirley Shahan (The Drag-On Lady) was the first woman to win an NHRA national event using Mondello cylinder heads. Joe modified Shahan's Mopar and AMC heads during her NHRA racing career.  When Oldsmobile won the Pike's Peak hill-climb, set the record with a Toronado, and won the Mexican road race three years straight they were all equipped with Mondello cylinder heads. All of the great engine builders and component manufacturers used Mondello cylinder heads on their engines and engine kits from the 60's through the 80's. Ed Pink, Keith Black, Carroll Shelby, Traco Engineering, SCAT Enterprises, EMPI, Moon Equipment, Speedway Motors, Pro Motion, Mondello Racing Engines, K-Motion, Gene Adams, and many other top name engine builders relied on Mondello ingenuity to create record setting engines.
Joe also built over 300 pair of Mercruiser small block and big block Chevrolet engines for both performance and racing boats. All of this was accomplished for Cigarette Racing Boats in Florida. Mondello was responsible for testing the first Manley valves in all of the top pro-series categories in drag racing and sprint car engines. Hank Manley first approached Joe Mondello when he was 22 years old and asked Mondello to help him grab a share of the performance aftermarket, and to this day Joe feels that "Hank Manley has the best valve line available anywhere." Joe congratulates Manley for being an innovator of great hardcore racing products.
Other companies that have benefited from Mondello's experience are Fel-Pro, Speed-Pro, Arias, Federal-Mogul, Michigan Bearings, Engle Cams, Total Seal, Edelbrock, and World Products. Joe assisted in the design, testing, and trouble-shooting of Chevrolet based Oldsmobile products and other avenues of performance products.
Joe helped Polaris performance update their flow management systems, and increased the CFM airflow in their Victory Motorcycle Head. Mondello increased their head by 41 cfm after Polaris had completed all of their design and development.
Mondello also assisted World Products with their Mo-Town Series small block Chevy heads in 1999. Joe worked with some new shapes and designs to create one of the best out-of-the-box, performance cylinder heads available to the general public.
Mondello also consulted with a number of companies to test and develop new products to reduce heat, friction, and the problems that are associated with poor lubrication: friction, heat, fatigue, galling, and cam failure. For example, Mondello performs a great deal of testing with Torco Oils while providing R&D work for Briggs and Stratton. Joe also tested with Pro Blend lubrication products for over 10 years and developed products for both the engine builder and the racer to reduce production time and reduce performance robbing heat from performance and racing engines.
In 1966 and 1967, Mondello won IHRA Comp Eliminator titles – back-to-back – with his injected gas and fuel A Altered.  From '68 through '70 the Mondello Matsubara blown fuel altered became the fastest altered of it's era turning in an ET of 7.24 at 213 MPH at the 1969 Indianapolis U.S. Nationals proving that a 427 Chevrolet wedge engine could set the NHRA record.  This won the fuel altered class & was runner-up in Comp Eliminator. The record remained on the books for ten years before the class was dropped by NHRA. In 1968 Joe won Car Craft Magazine's Engine Builder of The Year award & in '69 won Crew Chief of The Year. In 1969, Joe was a factory backed racer for Oldsmobile and set two (2) NHRA records. 1972 saw Joe set a national record in SS/JA at 11.47 @ 119.53 mph, won Super Stock at the Winternationals, and runner up in Super Stock Eliminator. In 1978, Mondello set 19 speed records – in three (3) years – in Drag Boat Racing. Joe competed in Super Jet, Modified Jet, Comp Jet, and Super Comp Jet with a 95-pound young woman at the helm.  In 1996 he was inducted into Hot Rod Magazine's Hall of Fame as one of 100 innovators in racing & in '97 he won the Lifetime Achievement Award from Super Flow Corporation for his contributions to the high performance industry; the eighth person to do so.  On September 28, 2002 Joe was awarded Manufacturer Of The Year as he was inducted into the Dry Lakes Racing Hall of Fame as a life member.
Mondello was the first Marine 9-hour Enduro boat to proudly test Auto-Meter's new marine tachometer and gauges with absolutely no failure, and Joe won the race three (3) out of five (5) years, straight. In 1972, this race was won with Oldsmobile power. 1975 and 1976 the race was won with 496cid Big Block Chevrolets – back-to-back! To date, no V8 engine has accomplished this feat.
Mondello's involvement also includes the Junior Dragster and Karting racing classes for kids. Joe has developed products for tire traction, engine assembly lube, oil concentrate additive, chain and bearing lube that have provided performance gains.
Since the inception of The Mondello Technical School, Mondello has also provided research and development assistance and extensive testing on General Motors Corporate Division engines and cylinder heads. Joe also provides research and development assistance to Briggs and Stratton Motorsports on all stock and aftermarket products.
Vovlo-Penta looked to Mondello's experience to correct Chevrolet Vortec Big Block 496-cid low-lift and high-lift flow numbers for better low rpm driveability in their marine application engines. Joe reduced the intake valve size, installed a full-radius intake valve seat and increased the airflow 22cfm, with cam profiles of 0.150" to 0.700" lift. Thus providing a perfect torque curve, and increasing the swirl in the combustion chamber.
The Mondello Technical School instructs students on cylinder head design, porting techniques, and the art of porting. The classes also concentrate on maximum intake velocity, horsepower and torque improvements. The engine-blueprinting course offered by Mondello teaches every trick in Mondello's portfolio of engine building experience, proper procedures, techniques, and engine building secrets not shared by anyone. Joe holds back nothing in any of his offered classes! The Briggs and Stratton course teaches everything the cylinder head and blueprinting courses cover.
As everyone knows, the term porting and polishing has been misused for decades. Just because someone polishes over bumps and ridges they think it's ported and polished. Unfortunately, most people wouldn't know the difference. Typical responses from students at The Mondello Technical School are "I never knew there were so many facets to porting and polishing, and just how much education was required to do the job properly." Joe's philosophy is "There are thousands of engine assemblers, but very few engine builders." After a week of instruction with Joe Mondello, you will be an engine builder.
Joe developed six new high performance machining and lubricating products for the aftermarket and OEM industry, and they are distributed by major warehouses, and by Mondello Technical School. Some of the warehouses include Keystone, Motor State Distributing, Goodson Products, Reher-Morrison, Manley Performance, K-Line, Speedway Motors, R&L Engines, Performance Warehouse, and many more.
Mondello's products have solved nearly every porting, machining, and honing problem that existed in the industry. Joe spent one and one-half years designing, testing, and perfecting these products. All of these lubrication products are formulated and packaged by Pro-Blend, exclusively for Mondello Technical School, and are marketed as "Mondello Posi-Flow 2000" (Lubrication and Machining Aids). 2010 Porting, Polishing, and Machining Lubricant eliminates sticking and material build-up on cutters and abrasives.  2020 Valve Seat Machining Lubricant eliminates chatter, and provides a better finish and concentricity.  2030 Titanium and Stainless Steel Valve Refacing Lubricant eliminates changing cutting stones and provides a smoother more concentric valve face. 2040 Dimasheen Honing Aid for Diamond Valve Guide, Cylinder Bore and Rod Honing Stones will not load up and lasts longer. 2050 Heat Seek for Cylinder Head, Engine and all High Stress and Temperature Lubrication needs.  His 1660 Water Soluble machining aid for CNC machines increases tool and solution life & eliminates chatter.  Finishes are incredibly smooth.
Joe Mondello has been directly involved with the Automotive Aftermarket for over 50 years, with 42 of those years dedicated to manufacturing, engine building, and education. Mondello was a Court Automotive Expert Witness for Engine and Automatic Transmission Failures since 1981. At 65 years of age, Joe still was proud in building the best cylinder heads and engines that money can buy, and offered the largest and most complete line of high performance Oldsmobile parts and accessories in the world.
There are two statements that best describe Joe Mondello: "Mondello Originates, Competitors Duplicate", and "Mondello Makes Horsepower, Not Promises."
Rest in Peace Joe. Catch you later on "the other side'.