By Doug Marion
A big part of American car culture back in the day for young and old alike was checking out the hot high performance used cars on car lots. You never hear about this today but every one of us who either had cash to burn or dreams of future ownership not only scoured car lots but read newspaper ads – daily.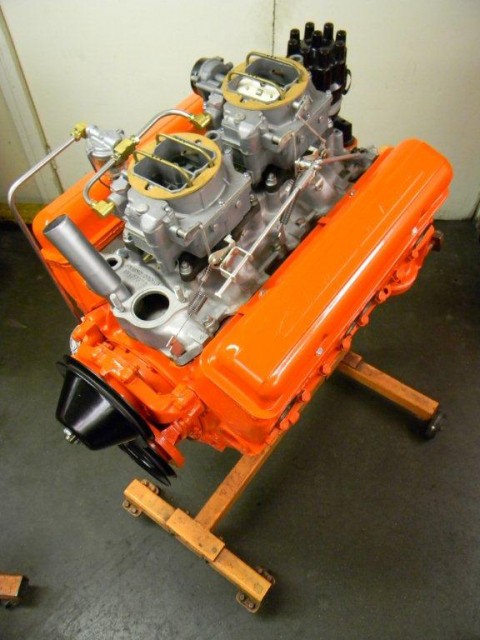 Chevy's 270 horsepower 283 small-block engine power thousands of potent 1955-60 Chevys as well as street rods, Austin Healeys, MGTC's – you name it in the late fifties and early sixties street wars and drag strips. The 2X4 Carter WCFB induction and Duntov solid- lifter camshaft were both very affordable, proven hop-ups back in the day.
On a Saturday morning in July, 1961, I rode my 40 hp/500cc Zundapp motorcycle 30 miles south to Doane Motors in Dundee, Illinois to do just that.  I had just turned 17.  Its used car lot had a few 348-powered Impalas plus a few 1955-57s and five 1959-60 solid lifter Corvettes – all lined up next to each other in the front row. Two were fuel injected. The owner, Dick Doane was very tight with Chevrolet Engineering and Corvette platform engineer and father of Chevrolet performance, Zora-Arkus-Duntov. Doane had an ownership interest in nearby Meadowdale International Raceway – an SCCA  closed road course. I rode my cycle there many times as a lad in 1959-60 to watch the hot Corvettes and 339 cubic-inch, small-block Scarabs do battle. My favorite drivers were Augie Pabst (Pabst Beer family) and anyone associated with Dick Doane and his dealership plus the Nickey Chevrolet "Purple People Eater" Corvettes.  I also snapped a bunch of black and white photos high atop a bluff as the racers whizzed by with my Brownie 110 camera. I had no interest in competing in road racing. My fear of crashing that way lingers to this very day. But I enjoyed watching and witnessing the efforts of dozens of legendary Corvette competitors.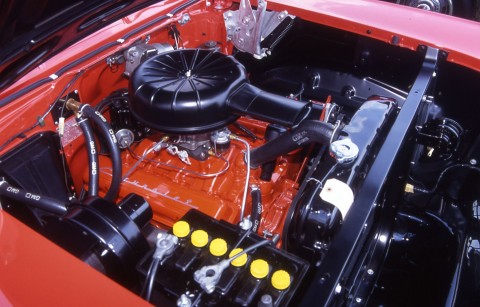 This nicely restored '57 220 hp, Power Pack, four barrel 283 is a great example of an engine that was quickly hopped-up with factory dual quads and a Duntov cam. In '57, Edelbrock offered its three two-barrel, aluminum intake manifold.  You cruised on the center two barrels and when vehicle acceleration was needed, the outer barrels (4 total) gave the car a totally new personality.
After drooling over Doane's used cars, I walked across the street to the dealership's small 2-car showroom and 10-bay service area. As I peered in, all seemed still. But wait, my peepers focused on some movement over in the back corner of the shop. Three men were peering at the engine of a white '61 two-door Biscayne.  Dick Doane himself, service manager George MacKendry and Doane's lead mechanic named John. Doane and MacKendry knew who I was due to being with my father when he purchased a new silver '61 Corvette (VIN #100438) seven months earlier.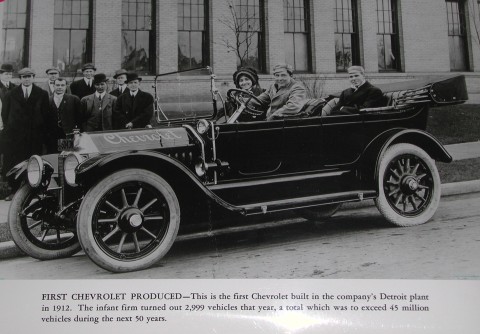 The first Chevrolet car was produced in 1912. Fifty years later in 1962, none were available. For '62 models, next year is its 50th anniversary and there are thousands still on the road. The problem with this analogy is that in 1912 there were few roads and fewer dealerships and only 2,999 new Chevys were sold. By 1962 and 2012, it was just the opposite. There were well over two million 1962 Chevys sold.
So, I coyly sleuthed my way to the driver's door. A look inside revealed a nice looking gray and white cloth and vinyl interior, a column-shift, three-speed transmission and no tachometer. I stood there silent as a ghost and listened to Mr. Doane inform his men that the local Ford agency had a gorgeous, silver-blue, four-speed, 401 hp 390 Starliner fastback and they wanted to race this new, 360 hp 409.  As I moved in for a 409 powerplant look-see, my peepers popped right out of my head!  It actually looked just like the 320 and 340 hp 348 but it had a larger "E" Series Carter AFB carburetor and the silver valve covers had black "360HP" decals. But could this new 409 compete with a tri-power Ford that had 41 more horsepower?   They left for Oswego Dragstrip 40 miles south and I went home.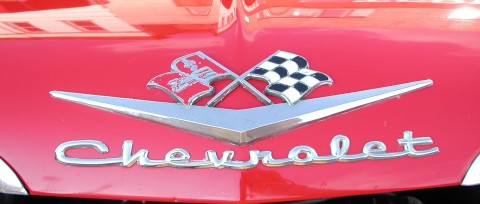 Many think the '59 Chevrolet 348 hood flags are the neatest ever designed. These flags are un-restored originals. When you spotted these flags on the street, you next listened to see if the car had a manual transmission and a lumpy-sounding, solid lifter camshaft. The quickest and fastest 348s in my area were, when tweaked, within a few feet from being just as quick as a 270hp, 283, four-speed Corvette with 4.11:1 gears.  Mid-14s was the norm at 94-95 mph.
The following Saturday morning, I couldn't get back to Doane Motors fast enough.  MacKendry told me the Ford won as the Biscayne's column-shifter locked up at anything more than a granny-shift. (This was due to the engine torqueing over which jams the shift rods together). MacKendry then walked me over to the Biscayne and opened the driver's door. Lead mechanic John had installed a Borg-Warner, wide-ratio T-10 four-speed with factory shifter.  They couldn't wait for a rematch!  They went back to Oswego that afternoon and beat the Ford by 4 car lengths, running 14.20s at 94 mph in the process. The Starliner was said to have run in the 14.40s at 92 mph. Mr. Doane was exuberant.  Hmm, I thought. My Dad's Corvette was turning high 14s at 94.73 mph. It best-ever would be a 14.45 elapsed time at 100.00 mph at the '62 World Series at Cordova, Illinois.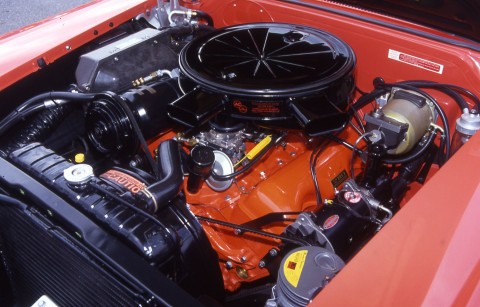 This '58, 280hp 348 Chevy features power steering and brakes, tri-power induction and factory air conditioning. A/C was not available with any Chevy solid lifter engine.
I think John bought the Biscayne after it had been used as a performance demo. I had witnessed the beginning of wild 1960s-era Chevy performance. But being in love with my Dad's '61, 270 hp Corvette, I didn't know it.  There was a lot more to come at Doane Motors. But I did not know that either. The factory built a mere 142 409s in 1961 – in all models, Biscayne, Bel Air, Impala and Impala SS. I've seen Doane Motor's legit 409 Biscayne plus one other 409 Biscayne in Oregon. I don't think I have ever seen a 409 Bel Air. Most of the rest of the 142 1961 409 engines powered Impalas – both with and without the new Super Sport option. Stay tuned.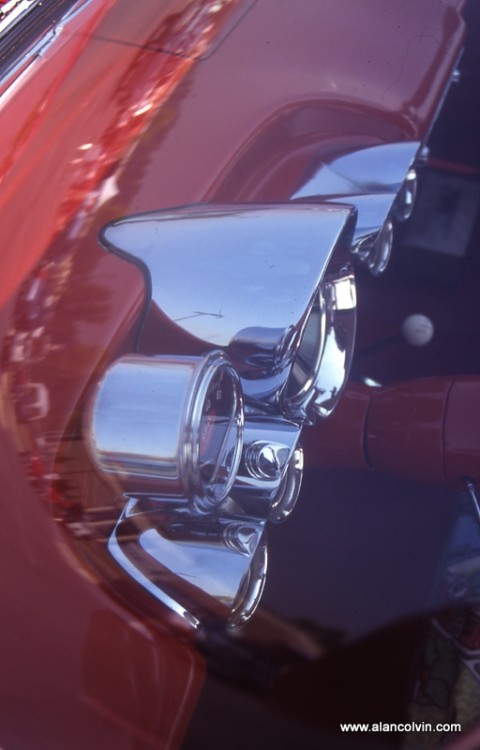 From time to time, back in the day we'd now and then see a '59 or '60 Chevy with a very impressive chromed instrument cluster. This was time-consuming to do and only the most serious undertook such a project.  The Sun tach came out in the early sixties. We dig the chrome. Do you?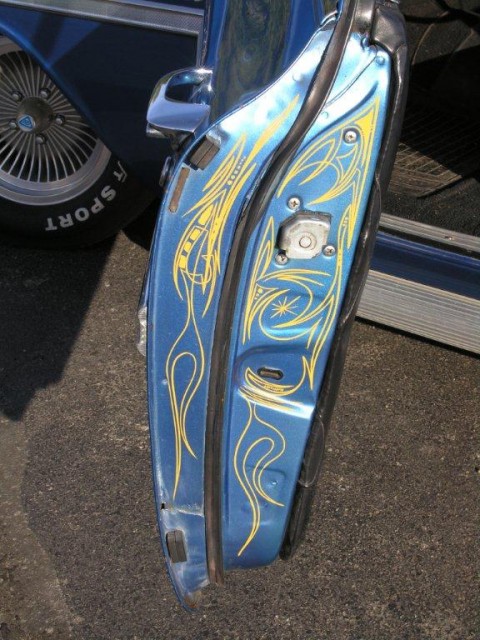 We can't think of anyone who did not like fifties and sixties-era pin stripping. It was usually seen on hoods and trunk lids. But it also was on interior dashboards and in door jambs. This is on a '59 bought six months old by Jim Carlson, USA-1 Auto Center, Holmen, Wisconsin. He also installed rare Turbine mag wheels and Thrush cast aluminum side pipes.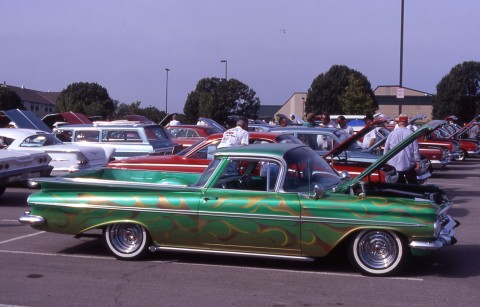 Another '59 El Camino owner who bought it darn near new and still has it today is Enid, Oklahoma's Ed Pogue.  An undefeated 409 drag racer in the sixties, Pogue today is an accomplished restorer. Everything you see here, Pogue created and accomplished – generally all by himself.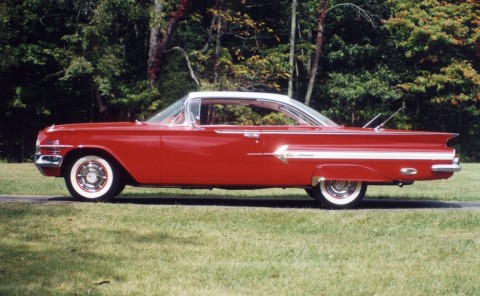 This Ohio-based '60 Impala sport coupe has a 335 hp 348, four-speed transmission and a ton of options. For its time, it ran strong and had styling galore.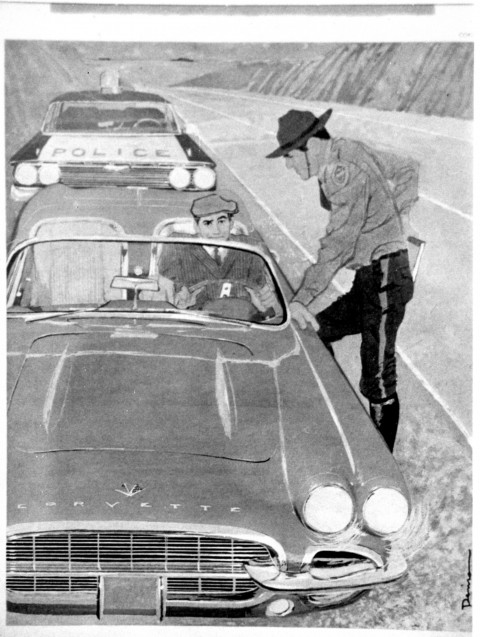 In 1961, I tore this cartoon out of my Playboy magazine.  It depicted a highway patrolman lecturing the owner of a fuel-injected '61 Corvette. The prose went something like, "I'm thrilled over the power of your fuel-injected, high lift cam engine……..".  We also bet the lawman also wanted to mention that his '61 Bel Air cruiser had a 315 or 335 hp 348 with column-shift, three-speed transmission – and had no trouble reeling in the speeding Corvette.   Cool cartoon.  Artist unknown.
Doug Marion (dougmarion@aol.com)